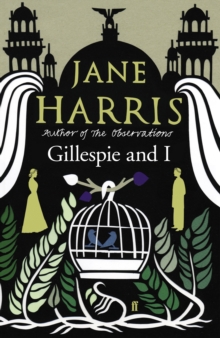 Description
As she sits in her Bloomsbury home, with her two birds for company, elderly Harriet Baxter sets out to relate the story of her acquaintance, nearly four decades previously, with Ned Gillespie, a talented artist who never achieved the fame she maintains he deserved.
Back in 1888, the young, art-loving, Harriet arrives in Glasgow at the time of the International Exhibition.
After a chance encounter she befriends the Gillespie family and soon becomes a fixture in all of their lives.
But when tragedy strikes - leading to a notorious criminal trial - the promise and certainties of this world all too rapidly disorientate into mystery and deception.
Featuring a memorable cast of characters, infused with atmosphere and period detail, and shot through with wicked humour, "Gillespie and I" is a tour de force from one of the emerging names of British fiction.
Information
Format: Hardback
Pages: 528 pages, Illustrations
Publisher: Faber & Faber
Publication Date: 05/05/2011
ISBN: 9780571275168
Other Formats
Paperback from £7.15
EPUB from £6.39
Free Home Delivery
on all orders
Pick up orders
from local bookshops
Reviews
Showing 1 - 5 of 14 reviews.
Previous | Next
Review by nicx27
16/06/2015
I had previously read The Observations by this author and, whilst I liked it, I was a little underwhelmed by it. I therefore didn't know how I would feel about Gillespie and I. I'm happy to report that I found it to be an excellent read.It's narrated by Miss Harriet Baxter, a spinster in her mid-30s who goes from London to Glasgow to spend some time there. She meets and spends a lot of time with the Gillespie family: Ned, an artist, his wife Annie, their young daughters Sybil and Rose, and Ned's mother Elspeth. They are an interesting family for Harriet and for me as a reader, and the first half of the book is really about painting a picture of the various characters (there are some other, more minor, characters too).The second half of the book is taken up with the criminal trial that is mentioned in the synopsis (so no spoilers there, although to say anymore would be a spoiler). I did find this section overlong, and think it would have benefited from being cut down, but it held my interest nonetheless. The ending was a bit strange, and I think I may have missed something from earlier in the story that would have been relevant there.Jane Harris has written Harriet's voice in such a way that I found myself smiling quite a lot at the things that she thought and said. She is certainly a very accomplished writer, and plotted this book exceptionally well.All in all, this is a really good read. It's a big book, but it never bored me, and it was quite a treat to read.
Review by Fluffyblue
16/06/2015
Brilliantly written story of a spinster living in Glasgow who befriends an artist and his family. The story starts pretty sedately, but events take a turn for the worse, and by the end of the book you're not sure what you believe.Very well written, the characters are all very strong and the plot is excellent.
Review by helen295
16/06/2015
Gillespie and I is a stunning work of fiction. It seems I'm one of the few people not to have read the first novel by Jane Harris, The Observations, and I'm not sure how I managed to miss that one as it sounds like something I would love. I'll certainly go back and read it now that Jane Harris has been brought to my attention.But this is a review of Gillespie and I. Or, I should say, Gillespie and Harriet Baxter. We first meet Harriet in 1933 as an elderly woman looking back on her life and promising to share with us her recollections of Ned Gillespie, a talented artist who was never able to fulfil his true potential. Harriet then proceeds to tell us the story of her acquaintance with the Gillespie family, whom she met in the 1880s during a trip to Scotland to visit the International Exhibition in Glasgow. She quickly becomes a friend of Ned, his wife Annie, and the other members of the family - but then disaster strikes and the lives of Harriet and the Gillespies are thrown into turmoil.After a leisurely start, the story soon picked up pace and became very gripping. But as well as the compelling plot there were many other things that made this book such an enjoyable read. I connected immediately with Harriet's sharp, witty and observant narrative voice. The other characters were vibrantly drawn, though the only one who never really came to life for me was Ned himself, which was the only disappointment in an otherwise excellent book. I also loved the setting. I've read many, many books set in Victorian London and it made a refreshing change to read one set in Victorian Glasgow instead.Halfway through the story something happened that made me start to question everything I'd read up to that point - and even after I'd finished the book I still had questions. I was very impressed by how cleverly Jane Harris managed to control what I believed and didn't believe at various points in the novel. I can't really explain what I mean without spoiling the story but suffice to say there are some stunning plot twists that leave you wondering whether things are really as they seem - and this doesn't happen just once, but several times throughout the second half of the book. At times it even felt like a Victorian sensation novel to me, which probably explains why I enjoyed it so much! Gillespie and I has been one of my favourite reads so far this year.
Review by GeraniumCat
16/06/2015
This is a difficult book to write about - it would be so easy to give too much away. It's thoughtfully written and absorbing, and although I didn't find the narrator, Harriet Baxter, at all attractive, you are drawn into the events she describes very quickly - even if you don't much like her, you do feel that she's a competent person, witty and well-educated, someone you could rely on. Harriet, in her turn, is drawn into the lives of artist Ned Gillespie and his family and eventually, into the terrible events which befall them.The background to the book is the exhibition in a wonderfully described Glasgow, with its not-quite-bohemian artist's community, which masks a seedier, darker world which threatens Harriet and the Gillespies in unexpected ways. The insidious way in which bad things can strike at ordinariness is convincingly portrayed, and the descent into chaos is paralleled at the end of the novel. The denouement is unexpected and unsettling. I haven't read Jane Harris's first book, but on the strength of this one, I shall be doing so - her writing is both subtle and economical and keeps you reading. I like writers who can do place well, and she's one of them, but she handles the period and her characters equally convincingly. It's a book which stays with you.
Review by wigsonthegreen
16/06/2015
Having enjoyed Jane Harris's debut novel, I've been greatly looking forward to this one and it has not disappointed in any way. Written as a fictional memoir, the plot is set in two locations with different time-frames: 1880's Glasgow at the time of the International Exhibition and 1930's genteel Bloomsbury. Harriet Baxter, an unmarried lady of independent means, travels to Glasgow following the death of her aunt. There she falls into friendship with an up and coming young artist, Ned Gillespie, and his family who live close by her lodgings. Harriet makes herself indispensable to the family - furthering Ned's career, encouraging his wife and buying presents for their daughters, Sybil and Rose. The novel picks up a gear following the sudden disappearance of Rose, the youngest daughter, from a near-by park. A police investigation follows and subsequently a trial. It is at this point in the book that the reader begins to question the integrity of Harriet as a narrator, so much so that by the end of the novel the reader will have done a volte-face. It's a brilliant piece of controlled writing and I, for one, loved it!