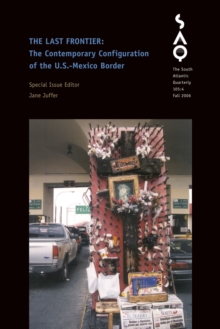 The Last Frontier : The Contemporary Configuration of the U.S.-Mexico Border
Paperback / softback
Description
The Bush administration has designated the U.S.-Mexico border "the last frontier" against potential terrorists from Latin America.
Analyzing the human costs, The Last Frontier explores the effects of neoliberal policies on the border.
On the one hand, neoliberal economics depend on open borders for the free flow of trade and the maintenance of a low-wage labor force.
On the other, both Mexico and the United States continue to heighten surveillance mechanisms and Border Patrol forces, especially in the wake of September 11, in an attempt to close those borders.Covering a range of disciplinary perspectives-geography, political science, anthropology, American studies, literary studies, and environmental studies-these essays contend that U.S. policies to curtail immigration and drug trafficking along the Mexican border are ineffective.
George W. Bush's call for a volunteer security force has legitimized a vigilante presence through the formation of Minutemen civilian border patrols, in addition to larger numbers of Border Patrol agents and expanded detention centers.
One contributor argues that, due to the increasingly dangerous border-crossing conditions, more undocumented immigrants are remaining in the United States year-round rather than following the traditional seasonal pattern of work and returning to Mexico.
Another contributor interviews drug smugglers and government officials, revealing the gap between reality and the claims of success by the U.S. government in the "war on drugs." Focusing on the social justice movement Ni Una Mas (Not One More), one essay delves into the controversy over the unsolved murders of hundreds of young women in the border town of Ciudad Juarez and the refusal of the government to investigate these murders properly.
Other essays consider instances of resistance and activism-ranging from political movements and protests by NGOs to artistic expression through alternative narratives, poetry, and photography-against the consequences of neoliberalism on the border and its populations. Contributors. Ana M. Manzanas Calvo, Alicia Schmidt Camacho, Arturo Davila, Sarah Hill, Jane Juffer, Laura Lewis, Alejandro Lugo, Tony Payan, Claudia Sadowski-Smith, Santiago Vaquera, Melissa Wright
Information
Format: Paperback / softback
Pages: 232 pages, 10 illustrations
Publisher: Duke University Press
Publication Date: 15/10/2006
Category: International relations
ISBN: 9780822366621
Free Home Delivery
on all orders
Pick up orders
from local bookshops