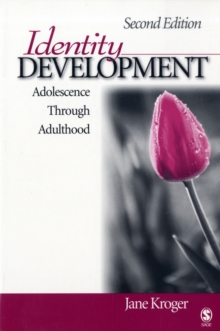 Identity Development : Adolescence Through Adulthood
Paperback
Description
'This is the one book that I recommend as authoritative on life-span identity development.
Written in a lively style with examples both numerous and apt, it helps practitioners and social planners to become current with research findings, and it provides researchers with both the necessary background and intriguing new ideas to advance their work.
University instructors will find it invaluable as a text for a seminar in identity development as well as a highly useful supplement for courses in life-span development (adolescence through late adulthood) and personality theory.
Kroger has written that rare book that is highly informative, useful, and a pleasure to read'- James E.
Marcia, Ph.D., Professor Emeritus, Simon Fraser University, British Columbia, CanadaThis volume highlights key features of identity development from early adolescence and through late adulthood and provides a valuable resource for university students as well as human services professionals.
The Second Edition of Identity Development: Adolescence Through Adulthood presents an overview of the five general theoretical orientations to the question of what constitutes identity, as well as the strengths and limitations of each approach.
The volume then proceeds to describe key biological, psychological, and contextual issues during each phase of adolescence and adulthood.
Following these major adolescence and adulthood sections, selected issues that may pose identity challenges for some are presented. New to the Second Edition:A thorough updating of key theories, researches, and demographic information on the course and contents of identity development from adolescence through adulthood An international focus in the selection of researches used to examine key issues A discussion of measurement techniques used within various theoretical orientations to investigate issues of identity A contemporary critical analysis of current identity research within an Eriksonian framework
Other Formats
Hardback from £75.45
PDF from £59.16
Free Home Delivery
on all orders
Pick up orders
from local bookshops