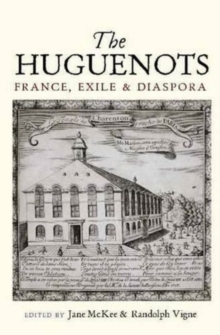 Huguenots : France, Exile & Diaspora
Hardback
Description
Scholars from France and from countries of the Huguenot Refuge examine the situation of French Protestants before and after the Revocation of the Edict of Nantes, in France and in the countries to which many of them fled during the great exodus which followed the Edict of Fontainebleau.
Covering a period from the end of the sixteenth to the beginning of the nineteenth century, the volume examines aspects of life in France, from the debate on church unity to funeral customs, but its primary focus is on departure from France and its consequences -- both before and after the Revocation.
It offers insights into individuals and groups, from grandees such as Henri de Ruvigny, depute general and later Earl of Galway, to converted Catholic priests and from businessmen and communities choosing their destination for economic as well as religious reasons, to women and children moving across European frontiers or groups seeking refuge in the islands of the Indian Ocean. The information-gathering activities of the French authorities and the reception of problematic groups such as the Camisard prophets among exile communities are examined, as well as the significant contributions which Huguenots began to make, in a variety of domains, to the countries in which they had settled.
The refugees were extremely interested in the history of their diaspora and of the individuals of which it was composed, and this theme too is explored.
Finally, the Napoleonic period brought some of the refugees up against France in a more immediate way, raising further questions of identity and aspiration for the Huguenot community in Germany.
Information
Format: Hardback
Pages: 256 pages
Publisher: Sussex Academic Press
Publication Date: 01/09/2012
ISBN: 9781845194635
Free Home Delivery
on all orders
Pick up orders
from local bookshops