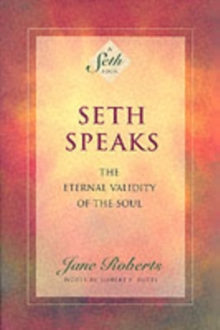 Seth Speaks : The Eternal Validity of the Soul
Paperback
Information
Format: Paperback
Pages: 512 pages
Publisher: New World Library
Publication Date: 23/05/1994
Category: Popular psychology
ISBN: 9781878424075
Free Home Delivery
on all orders
Pick up orders
from local bookshops
Reviews
Showing 1 - 2 of 2 reviews.
Review by CosmicBullet
16/06/2015
For this review I admit that I am torn between preaching to the choir, holding the book at skeptic's length, and becoming a New Age apologist. 'Seth Speaks: The Eternal Validity of the Soul' is, at face value, a channelled work. You may accept or deny that premise. I am - in this reality - choosing to accept it, and that decision makes a huge difference in the way I now regard my thoughts and my experiences. Let us hypothetically 'go there' for a while and see what happens. Obviously the immortality of the soul, the concept of reincarnation, parallel dimensions, and the elasticity of time and space are all fundamental premises for this kind of thing, so I will neither explain nor defend them. Given the fact that the channeling sessions from which this book was written took place in 1970-71, this book has already been regarded as a kind of modern classic on the subject. Indeed, one can see how much New Age thought can have originated in its pages. It was, in effect, 'New Age when New Age wasn't cool.' (A recommended companion volume to this and a must-read among Seth aficionados is "The Nature of Personal Reality," 1974, also channelled by Jane Roberts.) Well, given all of that: I found this book to be an engrossing examination of how extraordinarily fluid and filled with unseen possibilities life is. There is way too much content to describe in a review, of course (and stuff which the choir already knows), so I just want to hit a high point or two. Seth explains (via Jane Roberts, medium and physical author of the book) how intertwined our waking and dream states are, and more to the point for me: how our dream state may have as much continuity as the waking state. Apparently, what we manage to remember upon waking are tiny shards of a much larger, coherent experience that we may return to night after night. The apparent weirdness and silliness of those recalled fragments are already poor, symbolic substitutions for a deeper set of experiences than could be translated to the waking mind. . . Well, what an outrageous and wonderful gospel! I love the concept - that we could be largely blind to a whole other 'life' that is being lived while we sleep. I recall an old sci-fi novel, "Wine of the Dreamers," by John D. MacDonald which touched upon a variant of this idea. Of particular interest is the section wherein Seth explains that some lifetimes are intentionally-created living canvases, meant to be relived many times over. As such, these are exercises in probable realities for the soul. Such lives (and you may be living one now) are intended as experimental media upon which many variations may be played after the initial life is finished. The soul, intending such a use for that lifetime, can relive and reshape events after the fact, much as an artist applies a brush to a canvas, experimenting and reshaping outcomes as he or she pleases. Each experiment spins off a new probable reality – as real and concrete an existence as the 'original.' It's a fantastic idea. This of course makes me wonder whether this particular life, wherein I am writing this review, is or has been lived already on some level. Perhaps it is merely my soul continuing to experiment with outcomes. Strange. . . I suddenly have the feeling I have written this sentence before! Wonderful. In other news: multiple lifetimes are not sequential - they happen concurrently. Time is an illusion, made necessary by the workings of our conscious mind and the nature of physical reality. At deeper levels of consciousness, we share information, premonitions and deja vu experiences back and forth between lives. And good news! Your silly little ego will indeed survive intact, but only to find it is one of many. I begin to sound tonue-in-cheek here, but Walter, this is serious!If you like fantasy and science fiction, this book will appeal to you. If you desperately need all this to be true, then God loves you, I love you, and this book will appeal to you. And if you don't mind opening your mind, dreaming the dream and walking where visionaries and loons might fear to tread, this book will appeal to you (and I greet you, brother). Really, I think we may all be extraordinarily surprised - each of us - upon the occasion of our death. Personally, I would much rather be surprised than not. . .
Review by dbsovereign
02/03/2016
There is no time, there is no space. Even if he is just a fictional and/or a completely manufactured entitity, Seth still needs to be heard - especially today. I credit Roberts with having first opened my eyes to the [relative] truth that "we create our own reality." Dismiss her as a complete sham at your peril!