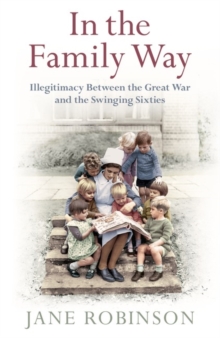 In the Family Way : Illegitimacy Between the Great War and the Swinging Sixties
Hardback
Description
Unmarried mothers, absent fathers, orphaned children - Jane Robinson's In the Family Way is a truly gripping book about long-buried secrets, family bonds and unlikely heroes.Only a generation or two ago, illegitimacy was one of the most shameful things that could happen in a family.
Unmarried mothers were considered immoral, single fathers feckless and bastard children inherently defective.
They were hidden away from friends and relations as guilty secrets, punished by society and denied their place in the family tree.
Today, the concept of illegitimacy no longer exists in law, and babies' parents are as likely to be unmarried as married.
This revolution in public opinion makes it easy to forget what it was really like to give birth, or be born, out of wedlock in the years between World War One and the dawn of the Permissive Age.
By speaking to those involved - many of whom have never felt able to talk about their experiences before - Jane Robinson reveals a story not only of shame and appalling prejudice, but also of triumph and the every-day strength of the human spirit. In the Family Way tells secrets kept for entire lifetimes and rescues from the shadows an important part of all our family histories.
In it we hear long-silent voices from the workhouse, the Magdalene Laundry or the distant mother-and-baby home.
Anonymous childhoods are recalled, spent in the care of Dr Barnardo or a Child Migration scheme halfway across the world.
There are sorrowful stories in this book, but it is also about hope: about supportive families who defied social expectations by welcoming 'love-children' home, or those who were parted and are now reconciled.
Most of all, In the Family Way is about finally telling the truth.Praise for Bluestockings'A gem of a book.
Social history of the best kind' Sunday Times'Fascinating.
Inspiring. Impassioned and wonderfully entertaining' ScotsmanJane Robinson was born in Edinburgh and brought up in North Yorkshire.
After reading English at Somerville College, Oxford, she became an antiquarian book dealer, and later a writer and lecturer.
In the Family Way is her ninth book, and like her previous work, including the acclaimed Bluestockings and A Force to Be Reckoned With, it confirms her as one of our most engaging and original social historians.
Jane lives near Oxford with her husband and two sons.
Information
Format: Hardback
Pages: 336 pages
Publisher: Penguin Books Ltd
Publication Date: 05/02/2015
Category: British & Irish history
ISBN: 9780670922062
Other Formats
Paperback from £8.59
EPUB from £4.99
Free Home Delivery
on all orders
Pick up orders
from local bookshops
Reviews
Showing 1 - 1 of 1 reviews.
Review by AdonisGuilfoyle
27/08/2015
When I borrowed a copy of Jane Robinson's study of illegitimacy in the early twentieth century, my interest was purely academic. While reading the varied accounts of 'bastard' children, single mothers and social prejudice, however, I realised that there for the grace of being born in 1980 and having two loving and supportive grandparents go I. The terms 'illegitimacy' and 'bastardy' mean nothing to modern families - aside from the economical factor of the parish and then the state having to support unwed mothers, I can't understand why there was ever an issue - but I do have personal experience of not being able to fill in half of my family tree, and what the not knowing can do to a child's confidence. This book, and the personal histories within, made me realise just how lucky I have been, but also given me cause to regret the questions that I never had the nerve to ask, and now will never have the chance to.Covering all aspects of illegitimacy between the Great War and the Swinging Sixties, from birth control (or lack thereof, and the astonishing naivete of earlier generations) to mother and baby homes - reading about 'Margaret' and the abuse she suffered in the Magdalene laundry brought tears to my eyes - adoption and even child migration, <i>In The Family Way</i> is a fascinating, engrossing and emotional social history. Viewers of programmes like <i>Long Lost Family</i> will be familiar with the shame and enforced separation heaped on young girls without a husband or a supportive family, but the darker secrets of illegitimacy are far more upsetting - the tokens left as keepsakes with the foundlings of Coram Hospital, and the children packed off to Australia or Canada for a 'new life' of misery. Beautifully and respectfully told, Jane Robinson has captured all the heartache and hypocrisy of illegitimacy, which is now thankfully a condition of the past, both legally and socially.