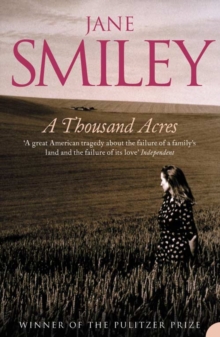 A Thousand Acres
Paperback
Description
The Pulitzer Prize-winning, bestselling novel from one of America's greatest contemporary writers.Larry Cook's farm is the largest in Zebulon County, Iowa, and a tribute to his hard work and single-mindedness.
Proud and possessive, his sudden decision to retire and hand over the farm to his three daughters, is disarmingly uncharacteristic.Ginny and Rose, the two eldest, are startled yet eager to accept, but Caroline, the youngest daughter, has misgivings.
Immediately, her father cuts her out.In A Thousand Acres, Jane Smiley transposes the King Lear story to the modern day, and in so doing at once illuminates Shakespeare's original and subtly transforms it.
This astonishing novel won both of America's highest literary awards, the Pulitzer Prize for Fiction and the National Book Critics' Circle Award.
Information
Format: Paperback
Pages: 400 pages
Publisher: HarperCollins Publishers
Publication Date: 01/09/1992
ISBN: 9780006544821
Free Home Delivery
on all orders
Pick up orders
from local bookshops
Reviews
Showing 1 - 2 of 2 reviews.
Review by wandering_star
16/06/2015
This is based on the story of King Lear, but set in a Midwestern farm in the late 1970s. Before I started reading the book I was quite sceptical - how was Jane Smiley going to make the story credible?In fact, she does a wonderful job. In the first 20 pages you have all the elements. A stubborn man, who knows exactly what he thinks is right, and who is used to making his own world around him (the land which Laurence Cook farms was created out of marshland - "However much these acres looked like a gift of nature, not of God, they were not. We went to church to pay our respects, not to give thanks"). A sense of the fragility of familial relations - stories of other families in which "generations of silence ... flow from a single choice", not to mention the precariousness of everything which looks most secure ("the grass is gone, now, and the marshes ... but the sea is still beneath our feet, and we walk on it"). And finally, a stubborn comment from the youngest child, who refuses to indulge her father and "had simply spoken as a woman rather than as a daughter. That was something, I realised in a flash, that Rose and I were pretty careful never to do". And you prepare for the tragedy to unroll. And it does - with a lot of parallels to the King Lear story (I think right down to the fact that the first 5 parts of the book mirror the events in the five acts of the play). But of course, what happens is not quite what you expect. And that brilliantly highlights one of the themes of the book - the fact that we all have our narratives about our lives (and the lives of other people), and the way that we respond to things which challenge those narratives.
Review by StellaSandberg
16/06/2015
A well written - effective - novel that kept me turning the pages just to know what would happen next, but I don't think that's good enough motivation for reading a book. It reminded me of a perfectly good mainstream movie, the kind that sucks you in with its acting and photography and music while you watch it but which is immediately forgettable afterwards because you never really believed in or cared for the characters and the plot was just too predictable and unrealistic. I had no problems finishing this long novel in a sitting and that might automatically count for a good grade for some, but I was only rather mildly interested and entertained, not emotionally involved or thrilled by virtuoso writing. I'd rather be alternately annoyed and amused by a more uneven, less "well made" novel! Also, I felt there were some plot elements that were just too much, supposedly "shocking" but quite unbelievable and too conventionally handled. As previous reviewers have suggested, they may be modelled on the author's reading of King Lear rather than on any faithfulness to her own story. Since I felt rather detached from the entire narrative, though, those elements weren't exactly jarring, only slightly disappointing.