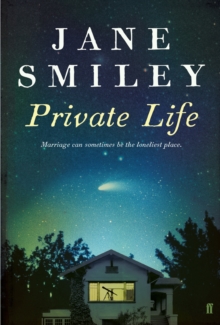 Description
Margaret Mayfield is nearly an old maid at twenty-seven when she marries Captain Andrew Jackson Jefferson Early.
He's the most famous man their Missouri town has ever produced: a naval officer and an astronomer - a genius who, according to the local paper, has changed the universe.
Margaret's mother calls the match "a piece of luck".
Yet Andrew confounds Margaret's expectations from the moment their train leaves for his naval base in San Francisco, and soon she realizes that his devotion to science leaves little room for anything, or anyone, else.
She stands by him through tragedies both personal and those they share with the nation.
But as World War II approaches, Andrew's obsessions take a darker turn, forcing Margaret to reconsider the life she'd so carefully constructed.
Information
Format: Paperback
Pages: 432 pages
Publisher: Faber & Faber
Publication Date: 01/05/2010
ISBN: 9780571258741
Other Formats
Paperback from £7.15
EPUB from £6.39
Free Home Delivery
on all orders
Pick up orders
from local bookshops
Reviews
Showing 1 - 5 of 7 reviews.
Previous | Next
Review by elkiedee
16/06/2015
This historical novel set between 1883 and 1942 is a story of an unhappy marriage. It is a slow paced novel of thoughts and feelings, with significant historical events forming the backdrop for Margaret's private life, but I thought it was beautifully written and thoughtful. Margaret's widowed mother is keen to see her three daughters marry well, and relieved when Margaret, the oldest, finally marries at the old age of 27, to Captain Early, a naval officer and scientific genius. She looks forward to having children, but a miscarriage is followed by a sickly baby who only lives for a few weeks. Meanwhile, she learns how her marriage was engineered by her husband's mother and her own. Andrew is an eccentric with a talent for alienating people – the man once regarded as a scientific genius in their Missouri hometown turns out to be just a mad scientist and not a very good one.There are many things to like about this novel despite the atmosphere of boredom and frustration, as Margaret is trapped in a stultifying marriage. I enjoyed the California setting as the couple move to Vallejo near San Francisco and the dry wit with which Smiley highlights the contradictions of Margaret's life. Margaret is a warm, caring person and she makes friends outside the home, including the single career woman Dora and the Japanese Kimura family. I liked the way Margaret retained and developed the ability to think for herself and question her husband's prejudices. I was very moved by the account of the birth and short life of Margaret's son and her difficulties breastfeeding him. I loved the detailed portrayal of social attitudes, including those in Margaret's family. There is lots to think about in the novel – when Margaret was 8, the deaths of two of her brothers, one in an accident, one from illness, were followed by her father's suicide. Yet her mother's response to this tragedy is actually one of being liberated – she has been ill with grief for months, now she is free to move the family back to her father's house and bring them up to marry. Another little comment by Smiley is to have Margaret reading aloud the work of Kate Chopin, since rediscovered by generations of 20th century feminists, to her mother and sisters. Readers looking for an action packed plot and a fast pace will be disappointed by this book, but I am really pleased to have had the chance to read it and would recommend it to those who like books in which not much seems to happen.
Review by arkgirl1
16/06/2015
I found this book had engaging elements to it with the historical backdrop of American life from the late 19th Century through until just after WWII but I struggled with the characterisation ... not because it isn't well done but because it was hard to identify and sympathise with the lead characters.Margaret is the '3rd daughter', despite being the oldest[not the pretty one or the intelligent one] and she struggles to find direction in her life until local scientist and adventurer Captain Andrew Early proposes. Margaret and Andrew's marriage seen through her eyes appears claustrophobic, frustrating and unfulfilling; Andrew's life revolves around his scientific research and his desire to make his name in the world of astronomy.There is much to interest the reader but I found my attention wandering as I waited to find out what the link was to the first chapter - the first chapter is set in 1947 and then we move back to the 1880's - and I felt we never fully got to grips with Pete, Dora and the Kimura family. I wanted to know more about their lives but all we get is brief glimpses as they come into contact with Margaret and Andrew.I am glad I was given the chance to read this, it is a well written account of a difficult marriage with the extra dimension of intrigue/drama around the naval base and the scientific dimension, but ultimately not a book I really loved and will head back to.
Review by AlexDraven
16/06/2015
Private Life uses domestic details to sketch an unfamiliar picture of a broad sweep of world history, from the turn of the century through two world wars. It's a portrait of an entirely average individual, a slow moving inevitable tragedy, big history from an intimate perspective which makes the familiar skeleton of major events unfamiliar and fascinating. The resulting novel is evocative and slowly drew me in, mirroring how enmeshed Margaret and Andrew become. The main body of the text is an enviably elegant example of how to move through time and space, building a broad cast of nuanced characters without info-dumps, and letting the underlying patterns gradually reveal themselves almost effortlessly. However, I almost didn't make it to the main text, thanks to the dreaded Prologue. I can sort of see why the decision to bookend the story was made- the sixty years of history illuminate the meaning of the 1943 events, and give a very satisfying weight to the book's conclusion, but the decision to replicate a wartime shortage of speech-marks in those two sections - and only those two sections? Completely distanced me from Margaret right at the critical moment.
Review by bibliobeck
16/06/2015
This book wasn't what I expected. I really didn't enjoy reading about the first time frame, but as the book entered the 20th Century I started to enjoy it more. For me, the problem was the characters - I just didn't 'get' them, or for that matter, like them. I couldn't empathise with the main character, Margaret, as I thought she was sullen and self-indulgent. I thought that for all his faults that marriage may have been the loneliest place for Andrew, her husband. In fact I actually like him better than Margaret because at least he was passionate about something, no matter how misguided. Reading the book sometimes made me feel like I was watching an old time film with staccato jumps where I felt that I'd missed something. I didn't always understand where characters emerged from - sometimes they just appeared with no background which made the whole read very disjointed. I was also disappointed that important incidents or events weren't fully explained - the Wobblies for example - who made a brief appearance without any real explanation or connection to the story. I think the problem was that the book tried to be too much - two world wars, scientific progress, the progression of women, paranoia and culture all set against a claustraphobic marriage was just too ambitious for a book of this size. Not connecting with the characters is the worst thing for me when reading a book because instead of losing myself in the story, I am aware that I am just reading words on a page without emotion or empathy.
Review by cowleyeleanor
16/06/2015
Smiley's latest book is a historical novel following one woman's life from her childhood in Missouri after the Civil War to married life in San Francisco, with the action inexorably moving towards the Second World War.Margaret is a character notable for her ordinariness and apparent passivity; she says of herself 'I was the third sister even though I'm the oldest. There's always a beautiful sister and a smart sister, and then there's a sister that's not beautiful or smart'. Her life is occupied with soothing and reining in her egotistical husband, an astronomer obsessed with disproving Einstein's theory of relativity. When she overhears her acquaintances describing her as a 'saint' she is deeply wounded, realizing how they must pity her situation.I found this book enjoyable and the time period it covered was interesting. However, there did seem to be something rather flat and unadventurous about its narrative (despite well-drawn minor characters and flashes of sharpness and irony from both Margaret and the third person narrative). The last third of the book, however, became progressively darker and more nightmarish and one realises how Smiley has been building up layer after layer of domestic detail until the reader realises that they are just as much trapped in the marriage as Margaret is.The ending is very well done, leaving one with a feeling of both resolution and revelation.