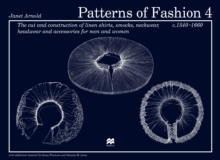 Patterns of Fashion 4 : The cut and construction of linen shirts, smocks, neckwear, headwear and accessories for men and women c. 1540 - 1660
Paperback
Description
No one interested in the history of dress, from art historians to stage designers, from museum curators to teachers of fashion and costume, can function effectively without Janet Arnold's Patterns of Fashion series, published by Macmillan since 1964.
Since her untimely death in 1998, admirers of her work have been waiting, with increasing impatience, for the promised volume devoted to the linen clothes of the Elizabethan and early Stuart periods, a companion to her previous volume on tailored clothes of the same era.
Planned and partly prepared by Janet herself, and completed by Jenny Tiramani, Janet's last pupil, no other book exists that is dedicated to the linen clothes that covered the body from the skin outwards.
It contains full colour portraits and photographs of details of garments in the explanatory section as well as patterns for 86 items of linen clothing which range from men's shirts and women's smocks, from superb ruffs and collars to boot hose and children's stomachers.
Beautifully produced, it is an invaluable guide to both the history and the recreation of these wonderful garments.
Information
Format: Paperback
Pages: 128 pages
Publisher: Pan Macmillan
Publication Date: 28/10/2008
Category: History of fashion
ISBN: 9780333570821
Free Home Delivery
on all orders
Pick up orders
from local bookshops
Reviews
Showing 1 - 2 of 2 reviews.
Review by bruce_krafft
16/06/2015
Finally it has arrived! After waiting for over 10 years (due to the untimely, some may say inconsiderate, death of Janet Arnold in 1998) this book has been at last been published. And it has colored pictures! I am sure that I am not the only person who greatly appreciates the work of Jenny Tiramani, Janet's last pupil, and Santina M Levey that made the publication of this book possible.As with the other Patterns of Fashion books the first half is a bit of history and then visual sources (portraits and photos of garments) with the second half of the book being devoted to the detailed drawings of the 85 pieces of clothing that are documented. If you liked Janet's other Pattern of Fashion books you will not be disappointed.I was pleased to find that the pickadil (stiff collar) for the woman's loose silk gown c 1610-1615 that appears in the other Patterns of Fashion for this period was included in this book. I am making the same loose gown for my Mother to wear to my wedding in the fall of 2009, and now I may even make the pickadil that goes with it. I am especially happy with the fact that there are 11 'supporters, underproppers, pickadils and rebatos' included in the book. I have been playing with the idea of making a rebatos with electro-luminescent wire ('cause every girl needs an outfit that requires batteries) so this book will be a good starting point for that.Looking at the pictures of the clothing it just makes you think WOW, what work went into them, the hours that it must have taken and the care that there were given to still exist after all these years.
Review by EowynA
16/06/2015
A feast of delectible information about Elizabethan and Jacobean smocks etc. Absolutely wonderful for the inner Elizabethan textile geek. Has details of coifs, smocks, and even a sweet bag I had not seen before. Color pictures and scale diagrams, oh my!