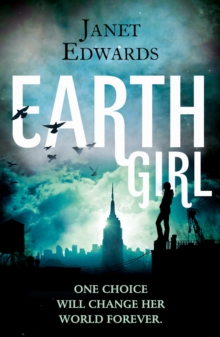 Description
A sensational YA science fiction debut from an exciting new British author.
Jarra is stuck on Earth while the rest of humanity portals around the universe.
But can she prove to the norms that she's more than just an Earth Girl?2788.
Only the handicapped live on Earth. While everyone else portals between worlds, 18-year-old Jarra is among the one in a thousand people born with an immune system that cannot survive on other planets.
Sent to Earth at birth to save her life, she has been abandoned by her parents.
She can't travel to other worlds, but she can watch their vids, and she knows all the jokes they make.
She's an `ape', a `throwback', but this is one ape girl who won't give in.Jarra invents a fake background for herself - as a normal child of Military parents - and joins a class of norms that is on Earth to excavate the ruins of the old cities.
When an ancient skyscraper collapses, burying another research team, Jarra's role in their rescue puts her in the spotlight.
No hiding at back of class now. To make life more complicated, she finds herself falling in love with one of her classmates - a norm from another planet.
Somehow, she has to keep the deception going.A freak solar storm strikes the atmosphere, and the class is ordered to portal off-world for safety - no problem for a real child of military parents, but fatal for Jarra.
The storm is so bad that the crews of the orbiting solar arrays have to escape to planet below: the first landing from space in 600 years. And one is on collision course with their shelter.
Information
Format: Paperback
Pages: 368 pages
Publisher: HarperCollins Publishers
Publication Date: 01/08/2012
Category: Science fiction
ISBN: 9780007443499
Free Home Delivery
on all orders
Pick up orders
from local bookshops
Reviews
Showing 1 - 5 of 7 reviews.
Previous | Next
Review by hashford
16/06/2015
I don't really know what to say about this book, there was nothing exceptional good or bad to comment on. The writing is easy to read and if you just want a light weight book than go for it. The plot was interesting and the character of Jarra well developed. The only thing I'd have liked to have seen more of was development in the other characters. They seemed very 2D to me and were more a way of explaining Jarra's character and giving her things to react to/ worry about than characters in their own right.If you want something simple to read that isn't part of a series then this book is for you, if you're looking for great literature then I suggest you go elsewhere.
Review by mountie9
16/06/2015
the orbiting solar arrays have to escape to planet below: the first landing from space in 600 years. And one is on collision course with their shelterThe Good Stuff•Unusual storyline •Fast paced •Author is a gifted storyteller, I was sucked in by the story almost immediately. It made it very hard to put down •A strong character who admits her faults and tries to do better •Reminded me a little of Serenity at times -- One of the planets was Miranda and a couple of other little comments, author obviously a fan •Nice moral messages imparted •One of the only books I have ever read that had made up terms that didn't irritate the hell out of me. They actually work in this story •Nice light moments of humour •The science actually makes sense, you could see this happening •Characters emotions are believable for her age and her background •Liked the love story, it was sweet and fun and not all over angsty for older readers The Not So Good Stuff•Jarra got over things and plot points were solved a little too neatly and quickly •She was also too perfect at times Favorite Quotes/Passages"I really and truly hate to admit I'm wrong but sometimes I have to. Dalmora Rostha, the gifted daughter of Ventrak Rostha, born to be adored Alphan vid personality of the future, and a living embodiment of everything I envied, was nice. I'd fought the idea for as long as I could, but she really was. It was truly sickening that someone so perfect should actually be nice as well but...""Amelia glared at him. "Being polite isn't on Miranda's planetary development plan until next year.""It took me a while to get it all sorted out, get past the pain of my parent's death, and realize what I had done."Who Should/Shouldn't Read•I would say a mature 10 - 11 yr old girl could also enjoy as well as the recommended age. There isn't too much violence and sex is hinted at but very subtly •Fans of scify, Dystopian and Post Apocolyptic will enjoy 4 Dewey's I received this from HarperCollins in exchange for an honest review
Review by littleton_pace
16/06/2015
Quite a jumble of feelings with this book! It was good, and it was bad. I really wanted to like our protagonist, Jarra, I really tried and sometimes I did, but most of the time I just got annoyed by her because despite how hard she claims everything to be, she seems to excel easily. Anyway, first a little background. It's the year 3000 and traveling between worlds is a simple portal away. Jarra is handicapped because she has been born with a condition that allows her only to live on Earth and not travel to other planets. Parents of handicapped children tend to just send them off to Earth and forget the had them, so handicapped children, or "apes" as they are rudely called, are raised in group homes by foster parents. Jarra turns 18 and decides she wants to study off world, even though she can't because if she steps foot on another world her body will shut down. But through some savvy work, her foster mother finds that she can apply to an off-world university that has a base on Earth. Jarra must hide her handicap because the world thinks of apes as pointless, useless castoffs that shouldn't be around. Although as Jarra describes life on Earth for apes, it doesn't sound so bad. Since the world government or whoever feels some sort of guilt that handicapped children have basically all been abandoned at birth, they are given a free ride through life. Everything is paid for, and they can choose where to study and get a free education. And if they don't want to study, they still get everything paid for them and can just lay around if that's what they choose to do. Anyway, Jarra goes off world with this whole new fake identity as a military kid, determined to excel in class and then turn around to them all and shout out that she's an ape and an ape tricked them all. Jarra's into history, and her class seems to be all about going out to parts of Earth and excavating them looking for artifacts or stasis boxes (which I think are similar to time capsules). Various stuff happens, there's really no narrative apart from Jarra excelling through the class and going about her daily routines.Jarra befriends a few of her class and realizes that turning around and laughing at them for not realizing she was a "smelly ape" might not be as satisfying as she thought. Nothing else really happens, there's no big ending or plot twist or anything. It just kind of goes on. Fian, Jarra's closest friend in her class and a guy she's kinda into, and Jarra get stuck while visiting a settlement during a snowstorm so the portals go down. But there's no urgency in their predicament. They're being well taken care of, plenty of people, food and water around. Nothing to worry about. That seemed to be the constant feeling I got throughout the book. Don't worry, everything works out and there's no real danger because even if you lose a limb you can grow another one. Jarra also quickly excels to being Tag Leader of Team 1, the highest spot a student can attain in the class, because she's been at dig sites all her life or something. In creating her military persona, she has researched absolutely everything about the military in just one month as well as taught herself basic hand to hand combat. So, Jarra is never stumped at a question about the military, regularly offers paragraphs of information about off-world things that apparently none of the actual off-world students know, and also easily tosses people across a room.One of my biggest issues with the book was the massive info dumps bracketed as conversations. There is just so much to take in and you really end up taking in none of it. Exos, apes, portals, hover sleds, food dispensers, impact suits, lasers, Betans, Achilles, vids, etc. There's just sooo much to try and keep track of, I can tell the author spent a lot of time cementing these details but I feel like the reader didn't need them all, especially considering none of it came back in any real fashion at the end of the novel.Another negative for me was the use of their own set of "cool words", like saying things are "totally zan!" or "what the chaos is going on?" or "I was so grazzed!" or "it was blizz". It just reeked of childishness to me. As do the odd names. Krath, Isette, Fian, Dalmora. I enjoyed the relationship developing between Jarra and Fian to begin with, it was realistic and fun to read them bond and entrust themselves in one another. All of this changes as soon as they have their first kiss. Fian is talking about them signing a Twoing contract (which seems to be just some sort of official piece of paper that claims two people are boyfriend and girlfriend, and can therefore touch its each other) and then talking about Jarra meeting his parents. There's some weird thing about modesty in this future where there is simply no intimacy. Even in the language. When talking of how hot an actor is on a vid, its common to say "he has nice legs" instead of "dat ass!" But then there are also triad marriages, so it seems to hit both extremes pretty hard. Something weird happens towards the end. Jarra locates her parents, chats to them for half a page and plans to meet up with them despite never meeting them before, and then first paragraph of the next day her parents are dead. This sends Jarra into some sort of psychosis for some reason and she decides her parents are alive and that she really is the persona she create for herself. I know grief can alter the mind, but I judge this reaction from such a strong character upon hearing of the deaths of two people she's hated her whole life and seen only once through a screen. Then in the end, Fian takes complete control. He flat out forbids Jarra to break their Twoing contract even though she wants to because she's an ape and he's not. And then after an accident leaves her unconscious for a week, he tells the entire world the secret she's been keeping for the whole book. But Jarra is fine with this and doesn't argue why he acted so brazenly. It's an alright book, but it gave me this strange feeling of being given loads of information but not having actually learned much of anything.
Review by libgirl69
27/08/2015
Really enjoyed this rite of passage, entrance into adulthood. Good characterisation, well thought out story.
Review by JennyJen
16/06/2015
Surprisingly good first half, but really started to lose me in the second. By about 85%, I was rushing to finish, cuz I was over it. <br/><br/>Review to come.