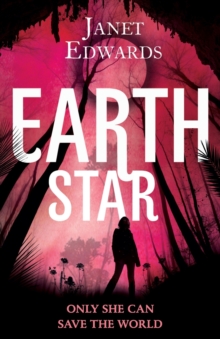 Description
The highly anticipated follow-up to Janet Edward's sensational YA sci-fi debut, Earth Girl.18-year-old Jarra has a lot to prove.
After being awarded one of the military's highest honours for her role in a daring rescue attempt, Jarra finds herself - and her Ape status - in the spotlight.
Jarra is one of the unlucky few born with an immune system that cannot survive on other planets.
Derided as an `ape' - a `throwback' - by the rest of the universe, Jarra is on a mission to prove that Earth Girls are just as good as everyone else.Except now the planet she loves is under threat by what could be humanity's first ever alien contact.
Jarra's bravery - and specialist knowledge - will once again be at the centre of the maelstrom, but will the rest of the universe consider Earth worth fighting for?
Information
Format: Paperback
Pages: 384 pages
Publisher: HarperCollins Publishers
Publication Date: 15/08/2013
Category: Science fiction
ISBN: 9780007443505
Free Home Delivery
on all orders
Pick up orders
from local bookshops
Reviews
Showing 1 - 2 of 2 reviews.
Review by Pabkins
16/06/2015
There is definitely a strong theme of overcoming prejudice that runs through <i>Earth Star</i> more so than its predecessor <i>Earth Girl</i>. At almost every turn Jarra was not just battling her own insecurities but was faced with a universe full of people that for the most part probably view her and those living on Earth as apes.<br/><br/><b>I have allergies so I must not be human</b><br/>A ridiculous statement yes, but no more ridiculous than the reality of prejudice itself. When you really stop to think about the reasons behind the prejudices some people have, they all boil down to some such silly nonsense. And for the color of skin, twang to a voice and lack of immunities people are reviled. Treated as less even though they are in every other way just as human and deserving of respect as the next person. Again and again Jarra is the object of prejudice and it was an unfortunate thing to see but necessary to the plot.<br/><br/><b>I wanna push you around, I wanna push you down</b><br/>Yes, I sang that in my head as I typed it. If you don't know the band Matchbox 20 then I can't help you. I was glad to see that Jarra and Fian had a much more developed relationship in this book. Of course they'd have to now that they've been through so much together and are actually a couple. Their playful banter and how Fian literally likes being pushed around by Jarra was cute. I don't know how other readers might take this but I adored their relationship. They are in that early phase of infatuation with each other and yet oddly enough they seem to know one another fairly well given the short amount of time that has actually passed. I found it refreshing to see how things between them have developed and I liked that Fian wasn't such a secondary character anymore. I have to say Earth Star also had a touch of nostalgia in it for me. It was great the way Earth's history, our not too far ago history infact, was woven into the story right along next to the fictional / futuristic history that the author created – all culminating in this fascinating far off future. The amazing things described made me wonder just how far off this future actually is. What with genetically created plants, recovered extinct animal species, medical regrowth tanks and teleporters. The wealth of nifty science fiction treats had me barely coming up for air between pages. Now mix in the sci-fi alien technology and it was a one sitting read.<br/><br/><b>Perception is 9 / 10ths of the law</b><br/>Jarra has some really great things going for her as a character. She is curious and prone to getting into trouble, a victim of her own prejudices as well as those of others and hates talking about her feelings or anything even remotely emotional to a fault. She's also really smart in her field of historical study, and did I mention she brings a whole new meaning to the word stubborn? Fian claims he is stubborn, but he doesn't have anything on Jarra. hah! Anyways where am I going with this? So typically in young adult books you'll get introduced to that YA main character that is going to be the 'savior' or 'hero' in the book. Did that happen here? Of course it did – however the author did it right because she gives realistic and justifiable reasons for why Jarra is put into these situations. There are valid points to why Jarra is specifically chosen for these opportunities and why she more than anyone else is the best person for the job. Because of the way it was done and how the circumstances were always explained the reader was not constantly being asked to suspend their disbelief. That to me was what helped me enjoy <i>Earth Star</i> more than many other YA books and makes it well worth reading.<br/><br/><i>*note about the hardcover edition – the font is a bit small. Those who like bigger fonts might want to grab the e-copy instead.</i>
Review by libgirl69
27/08/2015
Enjoyed this although not as much as previous book. Went a little too fast which gave the characters nor enough development to make the actions that they took as believable as they should have been.