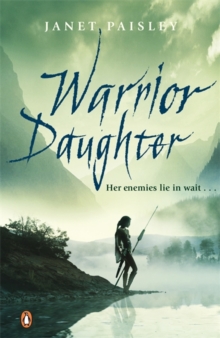 Warrior Daughter
Paperback
Description
Inspired by first century AD warrior women, Janet Paisley's Warrior Daughter is a gripping adventure about one young woman's struggle to survive in the harsh Celtic wilderness. 2,000 years ago on the Isle of Skye, a warrior is born. Daughter of an Iron Age warrior queen, Skaaha is wild, headstrong and revered.
But she is also a child, and when a chariot race leaves the queen dead and her menacing rival Mara in her place, Skaaha's charmed life lies in ruins.
Vulnerable, her future imperilled, Skaaha seeks to forge a life beyond the new queen's reach.
But with rumour, fear and danger sweeping the island, she cannot remain unmoved.
Broken by brutal misfortune, alone in a world of mistrust, Skaaha must unearth the courage to confront her enemies in defence of her people. Illuminated by the great Celtic fire festivals, Warrior Daughter is inspired by the historical Scathach, a fierce warrior woman of the first century AD and forerunner to the equally ferocious Boudicca. Praise for Janet Paisley's White Rose Rebel: 'Heather igniting historical adventure' Sunday Times 'A powerful historical page-turner with a beautiful, feisty heroine' Scotsman Janet Paisley is the author of five poetry collections, two of short fiction, a novella and numerous plays, radio, TV and film scripts.
Accolades include a prestigious Creative Scotland Award (Not for Glory, stories), the Peggy Ramsay Memorial Award (Refuge, a play) and a BAFTA nomination (Long Haul, a short film).
Her first novel, White Rose Rebel, is available from Penguin.
Information
Format: Paperback
Pages: 400 pages
Publisher: Penguin Books Ltd
Publication Date: 04/06/2009
Category: Historical fiction
ISBN: 9780141033044
Free Home Delivery
on all orders
Pick up orders
from local bookshops
Reviews
Showing 1 - 1 of 1 reviews.
Review by DeltaQueen50
16/06/2015
I was expecting to be totally carried away by Warrior Woman by Janet Paisley, a book about a legendary woman chieftain who lived on the island of Skye in the first century AD. Unfortunately that didn't happen with this book. The author painstakingly tells the story of Sgathaich who was known to lead a matriarchal society, and many details of the druidic based religion and seasonal rituals were included. I can't speak to the authenticity of the author's historic details, but as so little is known of this time period, the author had to rely on her imagination to tell this story that encompassed the life of this legend, from a young girl to a mature woman. The story felt more like a sword and sorcery based fantasy, than true historical fiction. I found it lagged a little in the middle, but did pick up and come to a satisfactory conclusion. It simply may have been a case of the wrong book at the wrong time for me, but I never felt like I got to tap into any emotional depth or true human feeling with this story. There were some very interesting details added, especially the power that these women had. Men were portrayed as little more than servants and playthings, with women making all major decisions, and choosing or discarding their mates at will. Whether these details were in fact, true, I find a little hard to believe, and probably added a little to my being uneasy with this story.