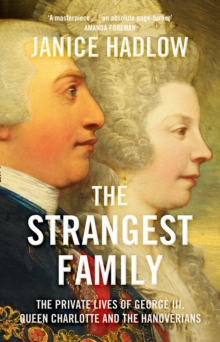 The Strangest Family : The Private Lives of George III, Queen Charlotte and the Hanoverians
Hardback
Description
An intensely moving account of George III's doomed attempt to create a happy, harmonious family, written with astonishing emotional force by a stunning new history writer.George III came to the throne in 1760 as a man with a mission.
He wanted to be a new kind of king, one whose power was rooted in the affection and approval of his people. And he was determined to revolutionise his private life too, breaking with the extraordinarily dysfunctional home lives of his Hanoverian predecessors.
He was sure that as a faithful husband and a loving father, he would be not just a happier man but a better ruler as well.During the early part of his reign it seemed as if, against all the odds, his great family project was succeeding.
His wife, Queen Charlotte, shared his sense of moral purpose, and together they raised their fifteen children in a climate of loving attention.
But as the children grew older, and their wishes and desires developed away from those of their father, it became harder to maintain the illusion of domestic harmony.
The king's episodes of madness undermined the bedrock of their marriage; his disapproving distance from the bored and purposeless princes, especially the dissolute Prince of Wales, alienated them; and his determination to keep the princesses at home, protected from the potential horrors of the European marriage market, left them lonely, bitter and resentful.`The Strangest Family' is an epic, sprawling family drama, filled with intensely realised characters who leap off the page as we are led deep inside the private lives of the Hanoverians.
Written with astonishing emotional force by a stunning new voice in history writing, it is both a window on another world and a universal story that will resonate powerfully with modern readers.
Information
Format: Hardback
Pages: 704 pages, 25 b/w, 25 col plates (24pp), Index
Publisher: HarperCollins Publishers
Publication Date: 01/06/2012
ISBN: 9780007165193
Other Formats
Paperback from £9.19
EPUB from £5.49
eAudiobook MP3 from £21.59
Free Home Delivery
on all orders
Pick up orders
from local bookshops
Reviews
Showing 1 - 1 of 1 reviews.
Review by pierthinker
27/08/2015
Hadlow presents a family history of the Hanoverian kings and queens of England from George I to William IV, but focusing on George III and his immediate, and very large, family. This is in no sense a political or big picture history; most of the major political and historical events of the times - the American War of Independence, the French Revolution, the Napoleonic Wars - pass by with scarcely a mention. Instead it looks at the personal lives and, most intently, at the personal relationships of George III, his Queen Charlotte and their 15 children, from George, Prince of Wales, born in 1762 through to Princess Amelia, born in 1783.This is an absolutely fascinating book, full of detail and insight into these lives, written as erudite history, but always with an immediacy and liveliness that keeps us turning the page. The detail revealed here allows us to see into the most intimate moments of these lives and to live with them their evolving relations ships with each other and, when able, with friends and lovers. Reading this book has all the fascination and horror of watching a slow-motion car crash. The story is so full of monstrous acts, perpetrated intentionally or not, that we cannot bear to see these real people struggling to understand their predicaments, but we cannot turn away, we are so drawn into their world. If this was soap opera, no one would believe it.Hadlow has done a magnificent job in opening up these lives and this work will be the gold standard of Hanoverian history in particular, but of personal history in general, for many years to come.
Also by Janice Hadlow