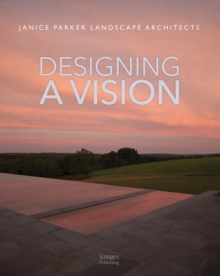 Designing a Vision: Janice Parker Landscape Architects
Hardback
Description
Janice Parker's guide to landscaping is an intimate yet practical text, written with the aim of stimulating inspiration and enthusiasm within the field.
In her well-rounded career as a landscape architect, horticultural specialist, garden consultant, teacher, floral designer, and speaker, Janice Parker has distinguished herself by rethinking accepted landscape practices and developing inventive, personal solutions for difficult problems.
As an entrepreneur and principal of her own firm, Janice has extensive hands-on experience in every facet of landscape design, so she understands the process from start to finish.
As a result, the work and projects depicted in "Janice Parker Landscape Architects: Vision and Process" are realistic as well as inspiring.
They focus on the most important aspect of the creative process: the relationship. "A garden is a relationship: a relationship between a person and a bed of soil; between a vision and a site; sometimes between the city and the country, between our desire for it and our lack of understanding of it.
It is our relationship to the natural world."Diverse styles of landscape projects are represented at all stages of development: from the vision, design, and plans, to the construction process, details, and plantings.
Containing first-hand accounts of Janice's experience and practice, this beautiful volume is replete with case studies, anecdotes, illustrations, insights, and visual aids.
The finished projects are displayed in a creative and direct format.
Strong graphic layouts collaborate with insightful narratives to produce a striking and informative book, while verdant photography augments an incredible number of colour renderings, watercolours, inspiring artworks and plans of the projects throughout.
AUTHOR: Since the year of its emergence in 1984, Janice Parker Landscape Architects has flourished into a prominent national firm.
She has conceptualised and directed innovative landscape architecture for national, private and public clients across the United States.
Her firm has established a reputation for conceiving of thoughtful landscapes, and dedicating themselves to the intricacies of landscape installation: excellent design, full documentation, and project coordination. Under her guidance, the firm has been honoured with multiple awards. SELLING POINTS: * Resource for landscape designers/architects who want to continue their personal and professional development in the field * Includes lists of useful websites, including industry-specific, noteworthy nurseries and tradespeople 300 col.
Information
Format:Hardback
Pages:276 pages, 300 colour
Publisher:Images Publishing Group Pty Ltd
Publication Date:01/01/2017
Category:
ISBN:9781864707021