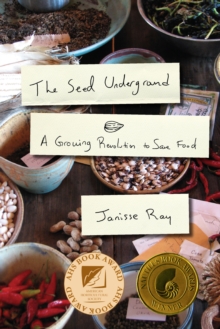 The Seed Underground : A Growing Revolution to Save Food
Paperback / softback
Description
Of the thousands of seed varieties available at the turn of the 20th century, 94% have been lost - forever.
Janisse Ray brings us the inspiring stories of gardeners whose aim is to save time-honoured open-pollinated varieties that will be lost if people don't grow, save, and swapthe seeds. Ray introduces readers to dozens of seed savers like the eccentric sociology professor she dubs 'Tomato Man' and Maine farmer Will Bonsall, the 'Noah' of seed-saving who juggles hundreds of seeds, many only grown by him. And Ray tells her own story - of watching her grandma save squash seed; of her own first tiny garden at the edge of a junkyard; of falling in love with heirloom and local varieties as a young woman; and the one seed - Conch cowpea - that got away from her.
The Seed Underground reminds us that while our underlying health, food security, and sovereignty may be at stake as seeds disappear, so, too, are the stories, heritage, and history that passes between people as seeds are passed from hand to hand.