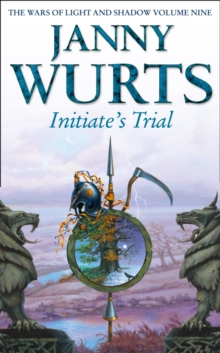 Initiate's Trial : First Book of Sword of the Canon
Paperback
Description
The long-awaited beginning of the fourth story arc - Sword of the Canon - in the epic fantasy series, the Wars of Light and Shadow. Betrayed and double-crossed, Arithon s'Ffalenn is held captive by the Order of the Koriathain.
The desperate Fellowship Sorcerers have gambled the weal of Athera and forced through the perilous bargain that spared him, as the last Prince of Rathain, and their sole hope of unity.
To suspend the Prime Matriarch's decree of execution, Arithon lives only to battle Marak's horde of free wraiths, unleashed one by one from the shielding grip of the star wards. But on the day the last wraith is redeemed, the inflexible terms sealed by Dakar's oath of debt will be forfeit... Against a backdrop in which the Religion of Light has undergone schism, the fanatical True Sect's high priesthood stands consumed by its thwarted ambition: to conquer Havish, the backbone of order that secures the terms of Paravian survival.
Now Lord Mayor of Etarra, Lysaer s'Ilessid must fight the pull of the Mistwraith's curse, and battle for sanity to uphold his just ethic.
Another young defender will stand at his side, newly sworn by the Sorcerer's auspices. As Arithon's life once again becomes the fulcrum that shifts the game board, Elaira's choice might save or break the unstable future; while at large and answerable to no mortal law, Davien and the dragon that holds his service throw in the wild card no one predicts...
Information
Format: Paperback
Pages: 592 pages
Publisher: HarperCollins Publishers
Publication Date: 16/08/2012
Category: Fantasy
ISBN: 9780007217830
Free Home Delivery
on all orders
Pick up orders
from local bookshops
Reviews
Showing 1 - 5 of 6 reviews.
Previous | Next
Review by donetha
16/06/2015
I really did not like this book. Maybe it is because I stepped in at book #9, or maybe it was the really small print that made it difficult to read. Then again there where whole stretches where I had no idea what was going on. I could see a good story in there, and in places I was riveted. It still was not enough to make me want to read the rest of the series. I have encountered this author before, mostly in short stories. Her style is very descriptive and flowery. I have never had the patience to wade through pages of description to get to the story.
Review by raistlinsshadow
16/06/2015
Reading this book had me worried, because it's been a while since I'd read anything in this series AND I hadn't read books in between Curse of the Mistwraith/Ships of Merior/Fugitive Prince and this one... So needless to say, everything here was really only vaguely familiar.Reading the first chapter made me remember why I had mixed feelings about the books a long time ago (and why they took me an inordinate amount of time to read)—Wurts very much enjoys the use of convoluted sentence structures, long sentences, and adjectives. This was fine while the story was building, but in the various battle scenes I found myself skimming ahead because reading these long, twisting sentences was slowing down the scene.Throughout the book, I didn't feel as "left behind" as I think I could have, but there were surely things that would have made more sense or become richer in meaning had I not skipped from the beginning of the series to the end. There were quite a few references that I had to leave behind because I just didn't understand them, and while I feel okay doing that every so often, I realize other readers may not feel the same.What I really admired about the book is that instead of turning me off the series (for various reasons—too difficult to read quickly, the typeset is too small, I've missed a lot in between the last of these books that I've read and this one, and so forth), reading this book made me really want to go back and get caught up. I enjoyed the multifaceted characters, and I really enjoy series where a set of characters are developed over the course of thousands of pages. This is certainly an intriguing read, and at some point I'll get my hands on the rest of the books to have it all make sense!
Review by Karlstar
16/06/2015
WHen this series first started, I really enjoyed it and thought it had a lot of promise. Somewhere around book 4, it started to slow down and drag, badly. The hero, Arithon, is more victim than hero, as over and over she traps him by circumstances into actually doing something. On and on, very little happening, with Arithon paralyzed by angst every time he swatts a fly. The somewhat novel twist of light being evil and dark being good can't save this series from the endless torture of the plot. Unfortunately Arithon and other key figures seem to be immortal, so the pain just continues. To make it even worse, in mass market format this looks like a normal, somewhat long length novel of 578 pages, but the type is tiny, disguising what would probably be a 700 page book.
Review by sunni_loves_to_read
16/06/2015
I received this book from the Early reviewers program on Library thing. I had a difficult time reading this particular book, due to the very small print in the book, however, with having not read any of the books in this series and then reading this one, I have to say there was enough background information from previous books to get through it with minimal frustration. I thought the book was very details and the characters and their unique names were a story of their own. I enjoyed the story told, and all of the detail. I did rate the book 3 of 5 stars and that is mostly due to the writing style being complicated at times, and mixed with the tiny font made it somewhat hard to read, but otherwise I did enjoy this book and even though would love to go backwards and read the first 8 books of this very high fantasy series. I hope a lot of people read and love this series. My only advice, or more so hope for future books is bigger font.
Review by koboldninja.5
16/06/2015
There is a chance that I would have a different opinion if I had read the earlier books in the series, but I found </em>Initiate's Trial</em> impossible to read and eventually just gave up. The prose is simultaneously dull and confused, the story choppy and difficult to follow. I don't mind stories that take a few liberties with verbosity, but this particular book went too far.
Also in the The Wars of Light and Shadow series | View all