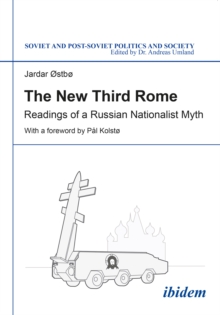 The New Third Rome : Readings of a Russian Nationalist Myth
Paperback / softback
Description
This in-depth analysis discloses the sources, contents, and implications of post-Soviet Russian messianism.
Since its rediscovery 150 years ago, writers ranging from Western critics of Moscow's foreign policy to ardent Russian imperialists have used the concept of Moscow as the Third Rome as 'evidence' of Russia's particularism and expansionism.
But for the original author of the formula of the Third Rome, the Orthodox monk Filofei of Pskov, it was a religious concept he referred to when criticizing what he saw as the apostasy of his time.
This book is the first to look beyond this dichotomy.
Drawing on theories of political myth and concepts of nationalism, Ostbo develops a novel analytical perspective.
Rather than dismissing political uses of the religious, medieval idea as 'wrong', the author analyzes the modern content and ideological function of the myth of the Third Rome.
Through case studies of four prominent nationalist intellectuals, Vadim Tsymburskii, Aleksandr Dugin, Nataliia Narochnitskaia and Egor Kholmogorov, the author shows how this messianic myth is used to 'reinvent' Russia after the collapse of the Soviet Union.
These writers use their own constructed image of the Russian nation to demonstrate what Russia 'should be' and its allegedly rightful place in the world.
Existing in radically diverging versions, the myth of the Third Rome routinely conveys rabid anti-Westernism.
At 'best', it is employed to forge a self-image of the Russians as an essentially isolationist civilization.
At worst, it is used to 'explain' how the Russians are divinely elected to be the rulers of a world empire.
Information
Format: Paperback / softback
Pages: 292 pages
Publisher: ibidem-Verlag, Jessica Haunschild u Christian Scho
Publication Date: 01/03/2016
Category: Society & culture: general
ISBN: 9783838208701
Free Home Delivery
on all orders
Pick up orders
from local bookshops