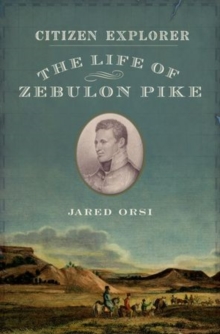 Citizen Explorer : The Adventurous Life of Zebulon Pike
Hardback
Description
Today Zebulon Pike's name is immortalized at Pikes Peak, the second most visited mountain in the world after Japan's Mount Fuji. It overlooks the town of Colorado Springs, where historian Jared Orsi teaches. Orsi was inspired to take up this biography not just by geography but also because there has been no modern interpretation of the life of this key explorer in American history. His life sheds considerable life on the early national period and on the Americanfrontier. Born during the Revolution Zebulon, Pike came of age with the nation. Trained as a soldier and stationed at various frontier posts, Pike believed he had struck a bargain with his country: by sacrificing himself physically for the nation, he would be rewarded with the independence to pursue liberty, prosperity, and refinement.
He made a name for himself in the early 1800s, when he was chosen to command an expedition to find the source of the Mississippi River and purchase lands from Indians forfuture army posts. He proved himself as an explorer who could conduct missions into the frontier and penetrate Spanish territory, including Santa Fe, the Rocky Mountains, and Louisiana. Along the way he was suspected of mischievous plots against the Spanish and for a time taken captive. (Thisparticularly calls attention to the loose attachment Americans had to the new nation the further West one went.) Nonetheless, he advanced within the army and served during the War of 1812, dying during an expedition he led against York (now Toronto). Orsi aims to interpret the life of Pike through several lenses. He casts him as a nationalist, whose life reflects the tensions of the young republic. Through his figure, he is able to convey the growing interest of Americans in the West, which Pike popularized in his travel narratives.
He also sees Pike in environmental terms, analyzing his physical encounters with frontier landscapes.
This biography, which would be the only one in print on Pike, should have a similar readership as DonaldWorster's A River Running West and books on the Lewis and Clark expedition, as well as books on the interaction between Americans and Native peoples on the frontier.
Information
Format: Hardback
Pages: 392 pages, 53 hts
Publisher: Oxford University Press Inc
Publication Date: 16/01/2014
ISBN: 9780199768721
Free Home Delivery
on all orders
Pick up orders
from local bookshops