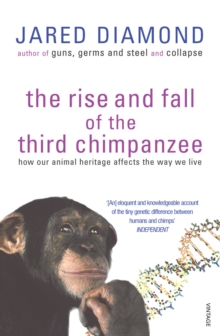 The Rise And Fall Of The Third Chimpanzee
Paperback
Description
More than 98 percent of human genes are shared with two species of chimpanzee.
The 'third' chimpanzee is man. Jared Diamond surveys out life-cycle, culture, sexuality and destructive urges both towards ourselves and the planet to explore the ways in which we are uniquely human yet still influenced by our animal origins.
Free Home Delivery
on all orders
Pick up orders
from local bookshops
Reviews
Showing 1 - 5 of 6 reviews.
Previous | Next
Review by landofashes
16/06/2015
Don't be put off by the fact that this is the Winner of the 1992 Science Book Prize - Jared Diamond ia a talented writer, biologist and thinker.
Review by daniel.links
16/06/2015
I'm a big fan of Jared Diamond. Given the publication date, I'm not sure how up to date some of the historical anthropology necessarily is, and, equally, readers of some of the author's other works will be familiar with some of the arguments put forward here. The book charts humanity's evolution from apes, and asks too, what makes us different (and what doesn't) why, and how it effects the way we live. The book covers everything from finding your partner to genocide, and perhaps because of this breadth seems to lack an overarching theme at times. You may well disagree with some (or much) of what is written here, but it is an interesting and thought provoking read and raises vital questions about what it is to be human and how we relate to one another and the world.
Review by Periodista
16/06/2015
Really the first draft for Guns, Germs and Steel and even of the follow-up, Collapse. I read those books a long time ago and I still get a deja vu feeling all over again reading, for example, about the environmental collapse of Easter Island. If you haven't read Guns, Germs and Steel--the story about everything--drop this immediately and read it. Then Collapse, I guess.It is sort of interesting to see that he didn't have much of the over-arching theory yet re why some societies (continents, civilizations) developed so fast because of the tools and domesticated animals they had. Here, there's more emphasis on why humans came out ahead of some of our close brethern but not a lot more.I'm slightly interested to see how he updated this in 2006, but doubt it's an essential for any library. One interesting thing: He was wondering where the next genocide would be and notes those by the Tutsi of the Hutu in Burundi in the 1972 and by Hutu of of the Tutsi in Rwanda in the 1960s. How often do you see those two precursors brought up? Of course the Serbian cleansing of Muslims was to come soon. His point is that there have always been mass murder of "the other"--not possible to miss for someone who has spent time in New Guinea. Genocide didn't surface in the modern day, any more than humans' extinction of animals did (see, for example, the Maoris' rapid extinction of so much of NZ's fauna). For the most part, though, the book is rather superficial and wanting in anthropological and historical underpinnings, especially for areas of the world beyond ANZ-Pacific and North America.
Review by Jewsbury
16/06/2015
This book considers what it is to be human. Do not be put off by the book's opening. In the main, Diamond presents a fascinating tale of our origins, history and current choices. Furthermore he should be applauded for tendering some thought provoking personal opinions. For instance, he proposes that we could treat chimps as part of the human family (genus). He feels that European global empires became dominant because of contingencies of geography. He lists humanity's distinctive aspects as the possession of art, language and a lengthy maturity, a unique set of sexual behaviours, and an unfortunate propensity for drug abuse and genocide. Whilst unmatched in degree by other animals on Earth, these characteristics all have evolutionary forerunners which we can detect in other creatures. His accounts are generally broadminded – more so than other later works. Thus he excuses the past as a period of our ignorance. Yet this excuse cannot hold for the present which looks like a period of irresponsible neglect of the environment. His message is that we must learn from the clear evidence of our earlier errors. Indeed it seems that the world may be losing as many as 17 species of biota every hour. It should concern us that we do not really know what the consequences of any of these losses will be. Nonetheless he concludes that this is a time for repair not despair.
Review by shanaqui
16/06/2015
Interesting stuff! I think I've still got this: my English teacher recommended it to me in the first year of Sixth Form, and I'm not sure I ever did finish it. But it was fascinating.