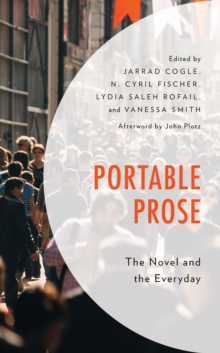 Portable Prose : The Novel and the Everyday
Hardback
Description
Portable Prose: The Novel and the Everyday examines the novel as a privileged site for representing the everyday, as well as a physical object that occupies public and private space.
This collection interrogates the relationships between these differing aspects of the novel's existence, negotiating the boundaries between the material world, subjective experience, and strategies of representation.
This collection offers a wide array of innovative novelistic explorations-with a focus ranging from nineteenth-century fiction to contemporary literary theory-and explores the portability of novels as both physical things and virtual hermeneutic devices. While mimetic qualities of prose remain an integral consideration for literary interpretation, this collection argues for more diverse frameworks-ones that see aesthetic components of the novel in close connection with reading practices, shared structures of feeling, and the corporeal.
In this capacity, this volume will argue for readings of texts that consider the capacity for literary culture to move through the world, but also to make it or re-make it new.
Information
Format: Hardback
Pages: 202 pages
Publisher: Lexington Books
Publication Date: 09/11/2018
Category: Literary studies: general
ISBN: 9781498562690