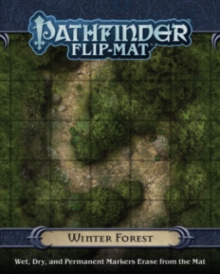 Pathfinder Flip-Mat: Winter Forest
Game
Description
When the heroes encounter frost giants in the depths of a frozen forest, noGame Master wants to spend time drawing every single tree, rock, and snow bank. Fortunately, with Paizo Publishing's latest Pathfinder Flip-Mat, you don't haveto!
This line of gaming maps provides ready-to-use and captivatingly detailedfantasy set pieces for the busy Game Master.
This double-sided map is perfect touse when the heroes need to set up a cold camp or have just wandered into thehaunt of some frost-bitten undead.
Don't waste your time sketching when youcould be playing.
With Pathfinder Flip-Mat: Winter Forest, you'll be ready nexttime your players venture into the frigid wilderness. This portable,affordable map measures 24" x 30" unfolded, and 8" x 10" folded.
Its coatedsurface can handle any dry erase, wet erase, or even permanent marker.
Usable byexperienced GMs and novices alike, Pathfinder Flip-Mats fit perfectly into anyGame Master's arsenal!On tabletops across the world, the Flip-MatRevolution is changing the way players run their fantasy roleplaying games!
Whytake the time to sketch out ugly scenery on a smudgy plastic mat when dynamicencounters and easy clean-up is just a Flipaway?["Price Includes VAT"]
Information
Format: Game
Pages: 18 pages
Publisher: Paizo Publishing, LLC
Publication Date: 05/01/2016
Category: Fantasy
ISBN: 9781601257970
Free Home Delivery
on all orders
Pick up orders
from local bookshops