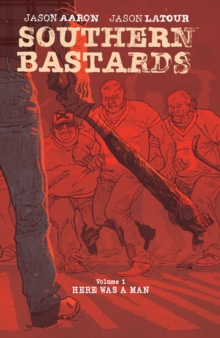 Southern Bastards Volume 1: Here Was a Man
Paperback
Description
Earl Tubb is an angry old man with a very big stick. Euless Boss is a high school football coach with no more room in his office fortrophies and no more room underneath the bleachers for burying bodies. Andthey're just two of the folks you'll meet in Castor County, Alabama, home ofBoss BBQ, the state champion Runnin' Rebs and more bastards than you've everseen!"Whatdoes old Earl Tubb do when he returns home to Craw County, Ala., only to findthe place a veritable criminal fiefdom run by Euless Boss, the local high schoolfootball coach?
Why, pick up the stick helpfully cleaved by lightning from atree growing out of his daddy's grave and start meting out justice just like hisfather, the old sheriff, did.
In the cleaning-up-the-dirty-old-townSouthern-fried pulper, writer Aaron (Scalped) and artist Jason Latour (DjangoUnchained) spread around no more story than is absolutely necessary, and most ofit involves people being at the wrong end of a stick, baseball bat, or even (inan early fight scene) a deep-fryer basket.
Both Jasons hail from the South, asthey discuss in a particularly bighearted introduction, and so likely feelunencumbered by concerns about overdosing on cliches.
Thus, thehigh-impact pages are strewn with bruising high school football, sweet tea,barbecue, trucker caps, and snarling rednecks.
The story, in which Tubb clobbershis way through throngs of underlings to get at Boss, is no more complicatedthan a redo of Walking Tall.
But there's a thread of something deeper, bloodier,and more resonant that often transcends the usual psychotic-redneck shtick,aided in no small part by Latour's spare, elegant art." - PublishersWeekly
Information
Format: Paperback
Pages: 128 pages
Publisher: Image Comics
Publication Date: 14/10/2014
Category: Crime & mystery
ISBN: 9781632150165
Free Home Delivery
on all orders
Pick up orders
from local bookshops
Reviews
Showing 1 - 3 of 3 reviews.
Review by Artymedon
16/06/2015
Splendid script and story telling of the deep Southern United States in the Noir style. In a special edition from the Heroes Convention Charlotte, NC, signed by the Author with a silver marker on the cover. Superb story.
Review by poetontheone
27/08/2015
A graphic novel steeped in the crime genre with a big helping of inhospitable Southerners. The terse prose and red and rusty coloring keeps slow but sweltering, pounding momentum of good suspense. This first trade volume introduces Earl Tubbs and Coach Boos, the antagonism between the two only set to build. Tubbs isn't Clint Eastwood, and Coach Boss isn't the typical untouchable villain of superhero or even crime comics. The story is gritty and real. These angry, broken people and their bloodshed brought to life by Aaron and Latour aren't too far into the realm of imagination, the astonishing detail here by both writer and artist sets them just beyond the boundaries of everyday life, and that give this series all the potential to become intense and utterly twisted. I'm excited for the next trade, and I am hoping my excitement will be rewarded. If this series continues at this caliber, I'll switch to single issues to sate my anticipation. If you like gritty, raw storytelling and lots of blood when it comes to comics, give this a try.
Review by EnidaV
27/08/2015
I've now realized that I loved Jason Aaron's earlier series Scalped so much mostly because of the spectacular artwork by R.M. Guera. Without Guera's illustrations the violence is, well - kind of boring. It seems like a third of the comic is people beating other people half to death. And Scalped a great story that made the violence make sense whereas in Southern Bastards the violence seems to be the point and the story's just a loose framework to justify lots and lots of meaty, bloody beatings.Big disappointment!