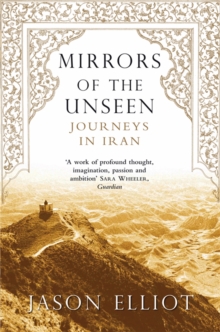 Mirrors of the Unseen : Journeys in Iran
Paperback
Description
Drawing on three years of travel and research, Mirrors of the Unseen offers a rare and timely portrait of Iran, introducing us to the sublime architecture of Isfahan, the forests of the north, the bleak landscapes of Kurdistan and the urban contradictions of the capital, Tehran.
An exploration of Iran's immensely rich heritage and a personal enquiry into the nature of Persian and Islamic art, it is a book rich in detail, wit and discovery. 'A work of profound thought, imagination, passion and ambition' Sara Wheeler, Guardian 'Masterfully comprehensible accounts of Iran's long and complex history, beautiful impassioned descriptions of Islamic art and architecture, some surprising and fascinating encounters with the locals -- this is travel writing at its very best' Daily Mail 'Informed by intelligence, humour, erudition, descriptive power and poetic prose, Mirrors of the Unseen is a joy to read' Independent
Information
Format: Paperback
Pages: 250 pages, Illustrations
Publisher: Pan Macmillan
Publication Date: 20/07/2007
Category: Travel writing
ISBN: 9780330486576
Free Home Delivery
on all orders
Pick up orders
from local bookshops
Reviews
Showing 1 - 1 of 1 reviews.
Review by edwinbcn
16/06/2015
Great travelogues are still being written. While bookstores nowadays offer many stories of back-packing adventurers and journalists, often producing exciting, but superficial accounts of encounters with rugged locals, it is good to know that there are still scholars who travel and write in-depth travelogues of inaccessible destinations, such as Iran. Mirrors of the unseen. Journeys in Iran is such a travelogue. It is a real eye-opener. It offers true insight into a country and culture, which has been all but shut to outsiders for more than 30 years. Mirrors of the unseen. Journeys in Iran by Jason Elliott has everything to become a classic.For once, impressions deceive. Born in 1965, Jason Elliott has published two travelogues about Iran and Afghanistan: An Unexpected Light: Travels in Afghanistan (1999) and Mirrors of the Unseen: Journeys in Iran (2006).While Iran, formerly known as Persia, now is an impoverished country, it boasts an ancient culture, of thousands of years. Elliott is a Persianist, and his fluency is so exceptional that taxi drivers take him for a native speaker, albeit with an accent that is hard to place. This enables Elliott to travel and mingle with the local people very naturally.Perhaps the strength of Mirrors of the unseen. Journeys in Iran is that the author travels like an adventurer, but can interpret and describe Iranian culture with all the depth and authority of a scholar. It lends the book a great deal of credibility. Still, the book is very well-written, and never bores. In many respects, Jason Elliott is the ideal author to bring Iranian culture to light.Some of the most revealing insights from the book are that most common Iranians are not to be confused with the extremists that dominate foreign news bulletins. Mirrors of the unseen. Journeys in Iran demonstrates very elegantly how the ancient Persian culture is throroughly rooted in Central Asian culture and bears some similarity to Chinese culture, i.e. not formal, material, but informal culture of the people's customs, for example with regard to hospitality. Elliott describes how he participated in parties that were organized in a type of "samizdat" atmosphere, ready to disperse and comply with Islamic regulations the moment they were discovered.While most of the book deals with travels throughout Iran and encounters with common people, Elliott does not fail to describe the history of Persia in broad outlines and inform the readers about the magnificence of Persian and Muslim art.Reading Mirrors of the unseen. Journeys in Iran can really change your mind about Iran.