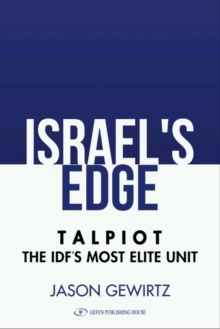 Israel's Edge : Talpiot -- The IDF's Most Elite Unit
Paperback / softback
Description
This book is about the most elite unit in the Israeli army, Talpiot.
Instead of only being trained to fight the soldiers brought into this unit are taught how to think.
The book details how this unit which specialises in teaching young cadets the military applications for computer science, physics and maths (properties needed for research and development) was conceived and developed in the wake of the Yom Kippur War, how the program came of age and how it surpassed even air force pilot training in terms of priority for the IDF.
Instead of signing up for three years like most Israeli soldiers, if you are selected for Talpiot you must sign up for ten years.
Graduates of this tiny unit, sometimes as few as 20 people a year are invited to enlist, have had a huge influence on the weapons Israel has developed through research and development and through the businesses they have founded after leaving the army, often using many of the technologies they developed in the IDF.
The book contains dozens of interviews with Talpiot graduates and some of the early founders of the program. It explains Talpiot's ultra-successful methods of recruiting and it explains many of the secrets of the program's success.
The book also profiles some of the most successful businesses founded by Talpiot graduates including Compugen, CheckPoint Software, Anobit which was recently bought by Apple and XIV recently bought by IBM.
The soldiers of this unit are truly unsung heroes. No other military unit has had more of an impact on the State of Israel.
Free Home Delivery
on all orders
Pick up orders
from local bookshops