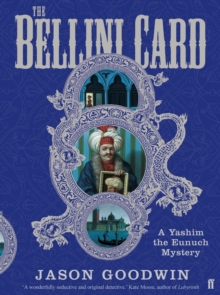 The Bellini Card
Hardback
Description
The third book in Jason Goodwin's celebrated series takes Yashim from the winding alleyways of Istanbul to the decaying grandeur of Venice.
Charged by the Sultan to find a stolen painting by Bellini, he enlists the help of his friend Palewski, the Polish Ambassador, and goes undercover.
Venice in 1840 is a city of empty palazzos and silent canals, and Palewski starts to mingle with Venetian dealers - self-made men, faded aristocrats and the hedonistic Contessa.
But when two bodies turn up in the canal, he realises that art in Venice is a deadly business. And meanwhile, what has happened to Yashim? "The Bellini Card" is a thrilling adventure in which a quest for a lost painting turns into dangerous game of cat and mouse that threatens to destroy the Ottoman throne and overturn the balance of power in Europe.
Information
Format: Hardback
Pages: 320 pages
Publisher: Faber & Faber
Publication Date: 01/07/2008
Category: Crime & mystery
ISBN: 9780571239924
Other Formats
Paperback from £6.89
EPUB from £5.58
Free Home Delivery
on all orders
Pick up orders
from local bookshops
Reviews
Showing 1 - 1 of 1 reviews.
Review by patrickgarson
16/06/2015
This book is another entry in Goodwin's series following 19th Century eunich, Yashim. However it, too, is susceptible to the flaws that have prevented his previous books from being top-tier. A new sultan is ruling the Ottoman empire, and he's heard tell of a portrait, by Bellini, of the Sultan Mehmet. The ever-discrete Yashim is instructed to find it in Venice, but instead puts his friend Palewski to the task. But once Palewski arrives in Venice, art dealers start dropping like flies - what is going on?First, to the positives. As ever, Goodwin has used his considerable knowledge and research chops to summon up an almost tactile vision of the canal city. The descriptions of faded - if not actively decrepit glory - echo contemporary impressions of the Venice and it gives the book an elegiac mood at odds with the fiery determination of the city's residents to survive and flourish under their new Austro-Hungarian masters. Palewski himself is less tragicomic away from his beloved Istanbul, and - unlike previous entries in the series - Goodwin paces the narrative quite well, and seems to be building to a genuine mystery. Alas, its third act is the great undoing. As in previous books, the climax is a hurried mix of implausible action and hasty exposition - both rendered in an elliptical, confusing fashion. Worse, Goodwin can't resist his typical, truly stupid and arbitrary love interest (Yashim, a eunich, always seems to have sex with women who barely know him). Compounding these errors is his habit of piling twists on top of twists, with a hefty garnish of coincidence. Maybe Goodwin feels the rug-yanking is apropos in a story of Turks, but the machinations are more Byzantine than Ottoman, and - crammed into the last thirty pages - all they do is confuse, and reduce reader investment. It's hard to care about the conclusion when you're not entirely sure what's going on, it's liable to change three times in a paragraph, and it bears little relationship to any clues or information contained in the first two thirds of the novel. If I sound aggrieved, it's because I'm frustrated: there's a decent mystery lurking in The Bellini Card - as there was in his previous books. The unique settings, likable characters, and - until the last third - engaging plots are the perfect ingredients for a satisfying book. But they are overpowered by flashy shenanigans every time. Seeing Goodwin sacrifice his plot, the credibility of his characters, and the pace of his narrative for such unworthy, glib third acts is a let-down. Likely to be the last Yashim book I read; they aren't developing.