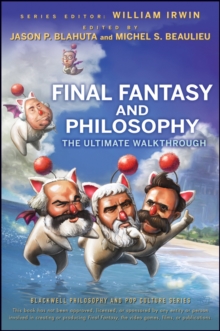 Final Fantasy and Philosophy : The Ultimate Walkthrough
Paperback
Description
An unauthorized look behind one of the greatest video game franchises of all time, Final Fantasy The Final Fantasy universe is packed with compelling characters and incredible storylines.
In this book, you'll take a fascinating look at the deeper issues that Final Fantasy forces players to think about while trying to battle their way to the next level, such as: Does Cloud really exist (or should we really care)?
Is Kefka really insane? Are Moogles part of a socialist conspiracy? Does the end of the game justify the means? As Mages, Moogles, fiends, and Kefka are mashed together with the likes of Machiavelli, Marx, Foucault, and Kafka, you'll delve into crucial topics such as madness, nihilism, environmental ethics, Shintoism, the purpose of life, and much more. Examines the philosophical issues behind one of the world's oldest and most popular video-game series Offers new perspectives on Final Fantasy characters and themes Gives you a psychological advantage--or at least a philosophical one--against your Final Fantasy enemies Allows you to apply the wisdom of centuries of philosophy to any game in the series, including Final Fantasy XIII Guaranteed to add a new dimension to your understanding of the Final Fantasy universe, this book is the ultimate companion to the ultimate video-game series.
Information
Format: Paperback
Pages: 240 pages
Publisher: John Wiley and Sons Ltd
Publication Date: 01/10/2009
Category: Philosophy
ISBN: 9780470415368
Free Home Delivery
on all orders
Pick up orders
from local bookshops
Reviews
Showing 1 - 3 of 3 reviews.
Review by Kassilem
16/06/2015
I've been meaning to read this book for years. Don't know why I didn't, other than there were always other books I was reading. But I went south for spring break and decided I was going to read it sometime soon. It helps that I've been playing Final Fantasy VII for the past month or so on the weekends because I was able to get into the book really quickly. I've only played half of the Final Fantasy games so far in my life time but it didn't really hurt my reading this. I've played the big ones which is what most of the book focused on. I loved how the authors combined philosophy with these games as I like both topics. There were things in here that I had never thought of before, or even noticed in some cases. It makes me want to go back and replay some of these games. Ha. Maybe in a few years once I'm out of school. But it did bring it all back for me and added to my understanding of what really happened in these games. It was fun and quick. I can't say for sure how much of it is or isn't accurate but it seemed solid to me. And while sometimes it seemed that some of the authors where grasping for straws on what to write about next I thought overall the book was great and entertaining. It was a good book to read at night in the hotels.
Review by Starsister12
16/06/2015
Overall, I enjoyed this book's discussion of philosophy in the "Final Fantasy" universe. I have only played Final Fantasy VII, Dirge of Cerberus, and watched Advent Children and Spirits Within, so I was unfamiliar with some of the characters or games that were mentioned. Usually the book's context allowed me to follow what the writer's were saying with being too confused. My only real complaint about the book is that the articles touch on some really interesting ideas but don't take it far enough. The articles are, for the most part, fairly light reading, which seems odd for a book about philosophy. "Final Fantasy and Philosophy" is definitely worth reading and brings up some good points, but if you are looking for deep philosophical discourse, this might not be the book for you.
Review by shanaqui
16/06/2015
This series of philosophy books about popular culture seems quite fun in general. They seem reasonably light-hearted, with questions like, "Are Moogles part of a socialist conspiracy?" on the back. The essays themselves are reasonably serious, and surprisingly do cover a range of the games -- not just Final Fantasy VII, though I think that one was probably mentioned the most. Interestingly, they even include reference to the relative flop of a film, The Spirits Within (which is a film I nonetheless like). The essays mostly cover serious bits of philosophy explained using examples from Final Fantasy, or characters in the games -- Kefka Palazzo from FFVI, most notably -- explained in terms of philosophy. A couple of essays talk about how issues raised in the fictional worlds are applicable to our world.<br/><br/>The essays aren't bad, mostly informative and accurate, but there are a lot of stupid mistakes that could easily have been weeded out with proper proofreading. I haven't got page references for all of them, but I'm thinking of looking it up and sending a list of corrections that should be made, if it's ever reprinted... Such mistakes as "Advent's Children", rather than "Advent Children"; a mix-up between Cloud and Squall -- Cloud and Seifer have never met, to my knowledge, not even in the Kingdom Hearts world, so he can't be Seifer's nemesis; a typo which puts Cloud in Final Fantasy VI, on page 145; Terra Branford being described as "human-Elf", when I believe they mean "human-Esper", on page 149; a reference to "supreme Maester Kinoc" when I assume they mean Maester Mika on page 159; and the apparent invention of the word "factical" when I'm pretty sure the word "factual" would have done just as well, on page 178.<br/><br/>Not without its flaws, then, but interesting and worth a read if you want to think more deeply about the worlds of Final Fantasy.
Also in the The Blackwell Philosophy and Pop Culture Series series | View all