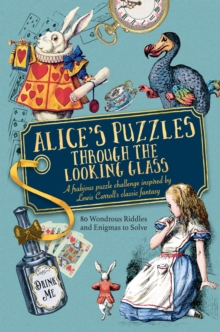 Alice's Puzzles Through the Looking Glass : 80 wondrous riddles and enigmas to solve
Hardback
Description
Sharpen your wit and wisdom with 80 riddles and conundrums set in Lewis Carroll's weirdly brilliant and brilliantly weird world.
Lewis Carroll was an obsessive, inventive expert logician, and would create elaborate 'Pillow Problems' every evening.
Some of these can be found in this collection so you can match your skills of deduction, logical reasoning, arithmetic and, most importantly, creative thinking, against the master's.
Beautifully illustrated with Sir John Tenniel's original artwork, explore the stunning world of Wonderland, and scratch your head over puzzles depicting some of Carroll's most beloved characters.
These puzzles have been approximately grouped into levels of difficulty but ultimately all can be approached in the same manner: 'Begin at the beginning, and go on till you come to the end: then stop.'
Information
Format:Hardback
Pages:144 pages
Publisher:Welbeck Publishing Group
Publication Date:10/08/2017
Category:
ISBN:9781780979618