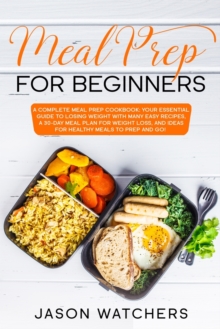 Meal Prep for Beginners : The Complete Cookbook: Your Essential Guide to Losing Weight with Many Easy Recipes, a 30-Day Meal Plan for Weight Loss, and Ideas for Healthy Meals to Prep and Go!
Paperback / softback
Description
If you want to know how you can learn to meal prep and start eating healthy, then keep reading...
In today's world, everyone is so busy that they don't have the time to prepare their meals every day. And so, most people rely on takeouts for their lunch or dinner, and when it comes to breakfasts, they skip it altogether.
This is where an unhealthy lifestyle is born and this can harm your health in more than one way. But there is a simple way in which you can not only eat homemade meals every day but also get to complete your work on time and have some spare time as well. And that solution is nothing but meal prepping.
So, are you ready to master the art of prepping?
With a proper step-by-step explanation, you won't be left wondering how to start or how to arrange your monthly meal plan. This book will give you a comprehensive guide to all of these things. You will also learn how to adapt to this new lifestyle where you keep two days a week to prep your meals and then have lots of extra time every day. If you follow the steps diligently, you will be able to shed those extra pounds as well. Along with tips on making your shopping lists to a complete one-month meal plan, this book has every piece of information you will ever need.
Unless you have someone guiding you in a proper stepwise manner, meal prepping can become quite overwhelming for a beginner. But this book will teach you everything in a simpler manner. Don't try to learn too many things all at once. Take it one step at a time. The book goes beyond providing just recipes or meal plans because it teaches you the science behind meal prepping and how you are going to benefit from it.
Here is a summarized version of all the key points which have been mentioned in this book:
* A 4-week meal plan that is perfect for beginners
* Recipes for breakfast, lunch, dinner and even snacks
* Tools to help in meal prepping
* Meal prep 101 so that you are aware of all the do's and don'ts from before
* Special recipes for those who are always on the go
Even if you have not tried meal prepping in the past or have no knowledge about it, don't worry. It can seem daunting, but trust me; it's quite easy. Say goodbye to those days when you used to come home at 7 pm and you have nothing for dinner and you simply did not have the energy to make something for yourself. From now on, sumptuous meals will be waiting for you when you come home!
So, it's time for you to stop rethinking about whether you want to start meal prepping or not because you will never know if you don't start. This indispensable cookbook has only one aim, and that is to make you a pro in meal prepping within a month.
All you have to do is scroll up and click on the Buy Now button!
Information
Format:Paperback / softback
Pages:206 pages
Publisher:Riccardo Marini
Publication Date:30/10/2020
Category:
ISBN:9781801158411