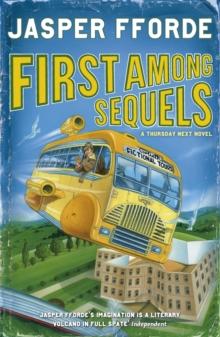 First Among Sequels
Paperback
Description
Thursday Next is back. And this time it's personal ...Officially, Literary Detective Thursday Next is off the case.
Once a key figure in the BookWorld police force, she is concentrating on her duties as a wife and mother. Or so her husband thinks ...Unofficially, Thursday is working as hard as ever - and in this world of dangerously short attention spans, there's no rest for the literate. Can Thursday stop Pride and Prejudice being turned into a vote-em-off reality book? Who killed Sherlock Holmes? And will Thursday get her teenage son out of bed in time for him to save the world?
Information
Format: Paperback
Pages: 416 pages, B&W line drawings
Publisher: Hodder & Stoughton General Division
Publication Date: 01/07/2008
ISBN: 9780340752029
Other Formats
EPUB from £4.99
Hardback from £15.79
Free Home Delivery
on all orders
Pick up orders
from local bookshops
Reviews
Showing 1 - 5 of 13 reviews.
Previous | Next
Review by lizzyb7
16/06/2015
This is the fifth of the Thursday Next and a welcome return. I really enjoyed reading this - I think I got distracted during Something Rotten and didn't enjoy it as much as a should have done but reading this makes me think I need to go back and try again.I love the BookWorld - it's a fantastically inventive creation and I think some of my favourite parts of this book was Thursday's descriptions of how that world works. It may not be the point of the book but it reminds me what an amazing process reading is. Makes me think of the Marshall McLuhan quote:"Whence did the wond'rous mystic art arise, Of painting SPEECH, and speaking to the eyes? That we by tracing magic lines are taught, How to embody, and to colour THOUGHT?"But it's also a highly entertaining read which also engages emotionally. From the slapstick of the dodo fanciers to the sadness of Milton's goodbye, I look forward to Thursday's return.
Review by reading_fox
16/06/2015
More madcap surreal adventures in Thursday Next's world.Set in 2002 some 14 years after Something Rotten, Thursday and Landen have been happily living together, Friday is now 16 and hasn't yet joined the Chronoguard - somewhat surprisingly as he was known to have started by 13. Somethign Other is happening with their two daughters. Goliath has only just managed to survive the fiasco of Superhoop and SpecOps has been drastically downsized, however Thursday and the rest of the Swindon crew manage to hold things together. In the bookworld, there is massive concern over falling Outlander reader rates - due in part to the massive social changes intrduced by computer games. There is some great social commentry here, along with sarcastic asides from the CommonSense political party which is still in power. Meanwhile THursday's exploits have been published which means that she also exists as written characters Thursday1-4 and Thursday5. This is planned and succeeds in being very confusing, particularly as the written versions don't quite share the same plot line as the original's we read. This is deliberate, but again confusing, expecially when Thursday has to train Thursday as Jurisfiction cadets.Lots happens, but I felt this was a much slower start than some of the previous works, and while still funny in many places it's lost some of the quirky humour of them too. However the more direct political commentry make sup for someof this. I don't liek time travel stories particularly with odd paradoxes so one of the major plotlines really didn't appeal to me.Overall - good but not brilliant, Fun but not superb. Read the others first, much of the in book references that made them so superb have been replaced with in book references to the previous TN books, which just doens't work quite as well.It is a pre-requisite to have read the previous books. Not much makes sens in any of Fforde's works, but it'll have made even less sense if you don't have the relevant knowledge of th preceding books.
Review by brokenangelkisses
16/06/2015
Beware: this book will make you laugh out loud on trains, in planes and cars. I wouldn't advise trying to read it on a bicycle. This is a BookWorld novel featuring Literary Detective Thursday Next, which means that there is sense of familiarity with the character and setting, but this is coupled with a sense of newness as Fforde has moved the narrative to fourteen years after Thursday's adventures in 'Something Rotten' and settled her down with her family. Fortunately for readers, Thursday is not that settled as a wife and mother and still finds time to fit carpets, do SpecOps work and exercise her veto at the Council of Genres while working for Jurisfiction. Actually, she doesn't fit many carpets, but then she is trying to train up two new Jurisfiction cadets without letting her husband know that she's doing anything more dangerous than the occasional estimate for new materials.This is just a brief overview of how the situation stands at the beginning of the novel but it cannot do justice to the Fforde's inventiveness. New and old characters work together to avoid the end of time and the death of reading, two events which may be related. Most episodes that might initially seem entertaining but discrete are eventually stitched together in a logical/ fantastical/ postmodern manner that would surely have Douglas Adams chuckling. Some episodes that aren't developed may be resolved in later books in the series. Part of the joy of this series is identifying the references to other published works and finding old characters responding appropriately to new situations. The Bennet family all behave in a suitable manner when their novel is under threat and their response to Thursday's intervention is classic.There is certainly a lot happening but the novel only became confusing once. I have read chapter 36 several times now and still can't work out how Fforde creates a particular event. Fortunately, once passed, this one wrinkle didn't detract from my enjoyment of the rest of the novel. If you are prepared to suspend disbelief, there are many enjoyable parallels between the real world and the BookWorld. Similarly, wordplay is a key feature of these novels but, again, rather than create confusion this helps readers to develop links between the real and the textual.Overall the novel is highly entertaining, genuinely witty and a real page turner. It does end on a cliffhanger, but the final few pages are so clearly setting up the next in the series that you do not feel that anything has been left out of this novel. If you haven't read about Thursday Next before then it is worth starting with 'The Eyre Affair' for sheer enjoyment, but the references to past events are suitably developed to allow newcomers to enjoy this story on its own.
Review by isabelx
16/06/2015
The doorbell rang.'Ooooh!' said Polly, peering furtively out the window. 'What fun. It looks like a market researcher!''Right,' said my mother in a very military tone. 'Let's see how long we can keep him before he runs out screaming. I'll pretend to have mild dementia, and you can complain about your sciatica in German. We'll try to beat our personal Market-Researcher Containment record of two hours and twelve minutes.' In the fifth Thursday Next novel, set fifteen years after book four, most of SpecOps has been disbanded, so Thursday and some of her former colleagues have set up a floor-coverings company, while continuing their SpecOps work unofficially. Thursday is also running a cheese smuggling operation with her stalker, Millon de Floss, and working as a Jurisfication agent in the Book World, while keeping her husband Landon in the dark about all her unorthodox activities, preferring that he should see her as a wife and mother of three who works as a carpet fitter.With Aornis Hades jailed in a time loop and Goliath keeping very quiet, everything should be going well, but the inhabitants of Book World are worried because reading rates in the Outland are falling drastically, and the ChronoGuards are panicking because sixteen-year-old Friday Next is refusing to join the ChronoGuards and the secret of time travel still hasn't been invented.Meanwhile, Thursday is assessing two troublesome Jurisfiction cadets; leather-clad, gun-toting Thursday1-4, protagonist of "The Eyre Affair" and its three sequels, and birkenstock-wearing hippy Thursday5, from the fifth novel "The Great Samuel Pepys Fiasco", which Thursday had insisted should not be full of sex and violence but went too far the other way, and was therefore a lot less popular than the other books in the series. A very convoluted tale, which I definitely preferred to books three and four, so the title is rather apt.
Review by tronella
16/06/2015
I like this series; lots of word play, lots of not being sure if you're just misremembering the plots of other books or if the changes to them he describes are supposed to have really happened.The Jenny story was interesting, and meeting the two other Thursdays amused me greatly, but the Goliath, Felix8 and Hades subplots seemed a bit unfinished to me. Not as good as some of its prequels, but still fun.
Also in the Thursday Next series | View all