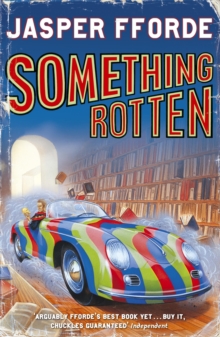 Something Rotten : Thursday Next Book 4
Paperback
Description
Thursday Next, Head of JurisFiction and ex-SpecOps agent, returns to her native Swindon accompanied by a child of two, a pair of dodos and Hamlet, who is on a fact-finding mission in the real world.
Thursday has been despatched to capture escaped Fictioneer Yorrick Kaine but even so, now seems as good a time as any to retrieve her husband Landen from his state of eradication at the hands of the Chronoguard.It's not going to be easy.
Thursday's former colleagues at the department of Literary Detectives want her to investigate a spate of cloned Shakespeares, the Goliath Corporation are planning to switch to a new Faith based corporate management system and the Neanderthals feel she might be the Chosen One who will lead them to genetic self-determination.With help from Hamlet, her uncle and time-travelling father, Thursday faces the toughest adventure of her career.
Where is the missing President-for-life George Formby?
Why is it imperative for the Swindon Mallets to win the World Croquet League final? And why is it so difficult to find reliable childcare?
Information
Format: Paperback
Pages: 416 pages, Six b/w
Publisher: Hodder & Stoughton General Division
Publication Date: 01/04/2005
Category: Crime & mystery
ISBN: 9780340825952
Free Home Delivery
on all orders
Pick up orders
from local bookshops
Reviews
Showing 1 - 5 of 21 reviews.
Previous | Next
Review by fieldri1
16/06/2015
I absolutely loved this book. The fourth in the series, it wrapped up everything neatly while not feeling in any way contrived. Here's a guide to the plot (stop here if you don't want to know...)Thursday is living in Bookworld, running Jurisfiction in her role as Bellman. However, she feels that the time is right for her to return to the real world and continue her efforts to get her husband returned (he was removed from the time stream in an earlier book to blackmail Thursday).Thursday manages to get her old job as a Lit-Tec back, and somehow manages to do so without too many questions on her whereabouts for the last couple of years. She finds out that (just for a change) the world is in peril, and that she must fix things, while avoiding being assassinated.The finale of the book revolves around a croquet match. In the alternate world the books inhabit Football either has never been invented, or has never taken off, but croquet is *the* spectator sport!The end of the book is wonderful, giving a sense of warmth as it wraps up Thursday's story, both past and future. When I had finished reading I felt I didn't want to read another novel for a while so that I didn't somehow taint the memory of this book.
Review by reading_fox
16/06/2015
Superb. Surreal.Jasper fforde is back on form with this the the fourth and not final (although given the ending it seems like it ought to be) installment of Thursday Next's adventures. It is set some two years after Well of Lost Plots, which handly skips the rest of Thursday's pregnancy. Friday is now two years old, and Thursday has been Bellman for that time, partly hunting for the Minotour still on the rampage, and otherwise dealing with the oddness of BookWorld. But now she's had enough, it is just too odd, and time she found Landen again.However when she returns she realises life isn't that easy. Famous enough to have a stalker who has his own stalker, heavily in debt, without a job and due once again to save the world, and avoid an asassain, fix hamlet, rescue president Formby, save the Danish books from being burnt, deal with the fictional Kane's bid for Chancellory, find Landen and arrange a babysitter for Friday. fast furious complex full of wacky characters again - and a truly horrendous so long windedly contrived pun that had me groaning so loudly OtherHalf came rushing in to check I was okay. It's superb. Nearly all of the plots lines at tied up in a a very packed last couple of chapters - although she should still be in debt andthis isn't mentioned. Read it!
Review by Ratbat
16/06/2015
Hilarious and unexpected. Not my favourite of the series, but it's still Thursday Next, so whatcha gonna do?
Review by Elphaba71
16/06/2015
This is the fourth in the Thursday Next series, you really need to have read the previous three to understand what is going on in this one! In Something Rotten, Thursday returns home to Swindon from living inside fiction and, has to stop the mighty Goliath and Yorrick Kaine, from ending the world as she knows it, while still trying to get her eradicated husband, Landen back, and stopping an assasin from killing her off!. Goliath are trying to turn the corporation into a religion, and Kaine has the population eating out of his hand with one of Mycrofts inventions. Everything hinges on the Superhoop croquet match, can Swindon Mallets win?, can Thursday save the day??A fantastic series, that just keeps getting better, there are so many laugh out loud moments, Love the mix of seriousness of Shakespeare is mixed up with funny stuff like George Formby, it's great how it all comes together so naturally.
Review by thioviolight
16/06/2015
Although this book is the fourth in the Thursday Next series, I found it a good introduction to Jasper Fforde's work for me. I'm really quite enjoying comic fantasy, and Something Rotten is definitely a good one, so rich with literary allusions. And if it didn't hurt for me to laugh at this time, I'd have been laughing out loud for sure!