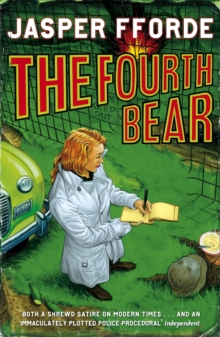 The Fourth Bear : Nursery Crime Adventures 2
Paperback
Description
The Gingerbreadman - psychopath, sadist, convicted murderer and cake/biscuit - is loose on the streets of Reading.
It isn't Jack Spratt's case. Despite the success of the Humpty Dumpty investigation, the well publicised failure to prevent Red Riding-Hood and her Gran being eaten once again plunges the Nursery Crime Division into controversy.
Enforced non-involvement with the Gingerbreadman hunt looks to be frustrating until a chance encounter at the oddly familiar Deja-Vu Club leads them onto the hunt for missing journalist Henrietta 'Goldy' Hatchett, star reporter for The Daily Toad.
The last witnesses to see her alive were The Three Bears, comfortably living out a life of rural solitude in Andersen's wood.
But all is not what it seems. Are the unexplained explosions around the globe somehow related to missing nuclear scientist Angus McGuffin?
Is cucumber-growing really that dangerous? Why are National Security involved? But most important of all: How could the bears' porridge be at such disparate temperatures when they were poured at the same time?
Information
Format: Paperback
Pages: 400 pages, b/w line illustrations
Publisher: Hodder & Stoughton General Division
Publication Date: 01/06/2007
ISBN: 9780340835739
Free Home Delivery
on all orders
Pick up orders
from local bookshops
Reviews
Showing 1 - 5 of 7 reviews.
Previous | Next
Review by Elphaba71
16/06/2015
A nother Great Book from Jasper Fforde. Once again there were times the story had me laughing out loud! I enjoyed this just as much if not more than The Big Over Easy. I love the Nursery Rhyme refrences, all very cleverly written. Looking forward to the Next Nursery Crimes Novel.
Review by reading_fox
16/06/2015
The second of the Jack Spratt serie sof Nursery Crime detective stories. Surprisingly I had though that as a paradoy of the crime genre this might start to fall a bit flat by the second book, but it doesn't. It is still incredibly funny, packed with obscure and not so obscure references and one or two very badly contrived jokes that will have you groaning out loud, when the punchline finally arrives.the links to Thursday Next's Bookworld, become more blatent, Thursday herslef becomes even less refered to than in the previous book. Bookworld is however causing problems for Jack Spratt, he has managed to remain in "teh Real world" as an undetected Nursery Rhyme Character for many years, but the cracks are starting to appear. Suspended for duty pending a mental examination of his fitness for duty, Jack cannot be part of the investigation into the escaped pyscotic killer "the Gingerbreadman" - is he a cake or a biscuit?Instead he provides unofficial advice to his Official Sidekick Mary Amry whom I never noticed being quite contrary. They are looking for the journalist Goldilocks,last seen at the three Bears cottage in the woods. ... hence the title, who was the fourth bear present on that fateful day? Why does any of this tie into cucumbers? - Give yourself extreme bonus points if unlike me, you managed to get the obscure reference before it is given away in the endnotes.Packed full of stupid and funny jokes this is another treasure from Fforde. The only minor downside is that it is very very contrived. Read it somewhere private where you can freely let yourself laugh out loud!
Review by Greatrakes
16/06/2015
This is the second book in the Nursery Crimes series, and less convincing than the first. That sounds a ridiculous thing to say about a Jasper Fforde novel, but his other books, however mad, had a kind consistency which this book lacks. Jack Spratt is head of the Nursery Crimes Division of Reading Police Department, and with his assistants Mary Mary and the alien, Ashley, he sets out to clear his name, fight his suspension, and capture the Gingerbread man. There are fewer of the cliched plot devices, less about the Guild of Detectives and not much about Jack's domestic life, unfortunately, these elements are what made book one enjoyable for me. Instead, the book fleshes out the PDR world. PDRs are Persons of Dubious Reality - not fictional characters from books, as in the Thursday Next series, but stock characters from folk tales, nursery rhymes and cautionary tales (like the Sissorman, who cuts the offending thumb from thumb-sucking children). There are city dwelling bears, Punch and Judy are renowned marriage guidance councilors (but terrible neighbours) and, all told, there were enough gags to keep me happily reading, but I was still disappointed.
Review by andyx
16/06/2015
I haven't finished it yet, but it's already making me laugh out loud...
Review by Meggo
16/06/2015
I have a whimsical streak, which is why I suppose I like Fforde's stories so much. This is another in his unmistakable style, this time featuring Detective Chief Inspector Jack Spratt of the Nursery Crime Division. Spratt investigates crimes involving nursery rhymes, and is most famous, when the book opens, for his work on the Humpty Dumpty case, although a recent failure with respect to Little Red Riding Hood has proved to be a career setback. If you like Fforde's flair for writing, you will enjoy this work as well. If not, then you may find it a bit too cheeky.