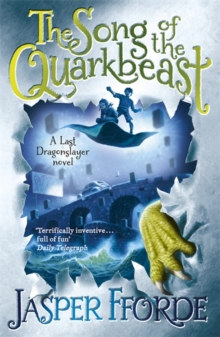 The Song of the Quarkbeast : Last Dragonslayer Book 2
Paperback
Description
A long time ago Magic faded away, leaving behind only yo-yos, the extremely useful compass-pointing-to-North enchantment and the spell that keeps bicycles from falling over.Things are about to change.
Magical power is on the rise and King Snodd IV of Hereford has realised that he who controls Magic controls almost anything.
Only one person stands between Snodd and his plans for unimaginable power and riches.Meet Jennifer Strange, sixteen-year-old acting manager of Kazam, the employment agency for sorcerers and soothsayers.
She may only have one functioning Wizard and her faithful assistant 'Tiger' Prawns to help her.
But one thing is certain: she will not relinquish the noble powers of Magic to big business and commerce without a fight.
Information
Format: Paperback
Pages: 320 pages, One
Publisher: Hodder & Stoughton General Division
Publication Date: 01/08/2012
Category: Fantasy
ISBN: 9781444707250
Free Home Delivery
on all orders
Pick up orders
from local bookshops
Reviews
Showing 1 - 3 of 3 reviews.
Review by reading_fox
16/06/2015
Continuation of his YA fantasy series. Just not quite as funny as the others lacking the relevant social commentary that makes true humour work. Where it does attempt it is to heavy handed and obvious. The Practchett style footnotes also don't quite have his flair either. Coming at the chapter breaks rather than the bottom of the page makes them awkward to access.Jennifer Strange has little to do as the Dragonslayer of the previous book, and instead returns to her old job of managaing the magcial staff of the institute in Hereford. The new Big Magic of the previous books hasn't yet created enough new magic to allow everyone unlimited power, but things are slowly looking up. However the local King still doens't approve of her, and intervenes when a newly founded magical institue challenges them to a duel. The task was a to raise a bridge, which they'd have easily won, until various of their sorceres get arrested. This leaves poor Jenny running around alot to summon various help, and incidentally involves her thwarting the great Shandar's plans once again. Although all of JF's books are contrived, this feels a lot more contrived than ususal, and similar to the first book in the series, definetly aimed more for a YA segment of the market. The humour is more situational if present at all, and continuity seems to have gone by the wayside. Events happen one after another with Jennifer responding until it all works out in her favour. There are very few references to events in the previous book.Readable enough, but hardly Jasper at his best.
Review by bookwren
16/06/2015
I was excited to read this sequel to The Last Dragonslayer. I enjoyed it, but it was not as over-the-top hilarious as the first one. I often find this with second books in a series. They are slower and don't have the freshness of the first book nor the climax of the final (in a trilogy). Still, I was glad to learn more of the magical world and happy to be among the quirky characters of Kazam again. Fforde continues to poke fun at the establishment and at big business, while developing his characters and setting. Jennifer continues to be strong protagonist - smart, practical and innovative. I continue to enjoy the pithy little footnotes, too. I hope The Return of Shandar is released soon!
Review by infjsarah
16/06/2015
This is a quick fun read. Aimed at teenagers so not as mocking as his other books.
Also in the Last Dragonslayer series | View all