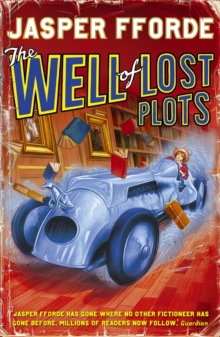 The Well Of Lost Plots : Thursday Next Book 3
Paperback
Description
Leaving Swindon behind her to hide out in the Well of Lost Plots (the place where all fiction is created), Thursday Next, Literary Detective and soon-to-be one parent family, ponders her next move from within an unpublished book of dubious merit entitled 'Caversham Heights'.
Landen, her husband, is still eradicated, Aornis Hades is meddling with Thursday's memory, and Miss Havisham - when not sewing up plot-holes in 'Mill on the Floss' - is trying to break the land-speed record on the A409.
But something is rotten in the state of Jurisfiction.
Perkins is 'accidentally' eaten by the minotaur, and Snell succumbs to the Mispeling Vyrus.
As a shadow looms over popular fiction, Thursday must keep her wits about her and discover not only what is going on, but also who she can trust to tell about it ...With grammasites, holesmiths, trainee characters, pagerunners, baby dodos and an adopted home scheduled for demolition, 'The Well of Lost Plots' is at once an addictively exciting adventure and an insight into how books are made, who makes them - and why there is no singular for 'scampi'.
Information
Format: Paperback
Pages: 384 pages
Publisher: Hodder & Stoughton General Division
Publication Date: 01/01/2004
ISBN: 9780340825938
Free Home Delivery
on all orders
Pick up orders
from local bookshops
Reviews
Showing 1 - 5 of 14 reviews.
Previous | Next
Review by reading_fox
16/06/2015
Continued adventures of Thursday Next.Thursday is now living in BookWorld - The 'real' world deemed too dangerous for her as yet unborn child, both SpecOps and Goliath aren't happy with her. But as part of the deal with the Character Exchange Program she has to complete her Jurisfiction training, and that isn't exactly safe either. Of course Landon her husband is still eradicated, and curtesy of Hades' mindowrm possibly forgotten too. Meanwhile with Miss Haverham and Snell's guidance, she continues to explore the weirdness of the bookworld. Train Generics to have a personality, the Textual sea, Cyrillic Ocean and of course the 26 floors of the Well of Lost Plots - repositry of unpublished fiction. And then shoehorned into the last third of the book, there is the new upgrade, UltraWord, V9.0 of the Book operating system. Promised to enhance the book (as we know it) in so many ways, yet thursday and some of the other Jurisfiction agents have their doubts - can it be that Mr Fforde isn't that keen on the Kindle?The entire book is set in Bookworld - which decreases the opportunity for outrageous puns, and character names. However he still manages to contrive a completely ridiculous "had had had" dialog, and of course there are more references to characters and books than you can believe. I recognised a lot, but not all. The actual plot is a bit rushed - especially the ending, although all the books feature a complex style with many different adventures weaving together, this is too many without the details that could make them good. On his website it's stated the entire book was written in 100 days rather than the 4 years for the Eyre Affair. It shows. Overall - still laugh out loud funny in places, erudite and zany.
Review by quixotic-creator
16/06/2015
This is my second romp through these most wonderful and entertaining novels. Fforde is indeed a word smith of great imagination and knowledge. Playful, satirical, ironic and brilliantly conceived and written, these novels in the Thursday Next SpecOps Literary Detective series will not disappoint. Touching upon the sci-fi tradition reminiscent of Douglas Adams, Fforde delivers stories that not only intrigue, but also carve out a unique niche. Journey along to new and bold imaginative heights as Next battles against literary troublemakers like Acheron Hades, and Yorrick Kaine, the 'Big Brother" Goliath Corporation, as well as nasty enemies within SpecOps itself. Illegal time-travel and book-jumping are but a few of the interesting ideas that await exploration as the both the reader and Next engage in all things literary.
Review by ablueidol
16/06/2015
Thursday Next struggles to become a jurisfiction agent, as dark deeds are a foot in regards to the new book operating system. She has to fight foes in and out of her mind. Witty fun for all bookies
Review by ferebend
16/06/2015
This is the third book in the Thursday Next series of novels. I was told that this was a terrible book, actually, so I had my reservations, but it turned out to be great! It certainly won't win any literary prizes, but it was a fun story. I liked it much more than the previous book (Lost in a Good Book) and there were plenty of things that made me laugh out loud.The Book World, as worlds go, is fascinating. Although, I think Fforde gets a bit carried away with it at times. The characters there are flat, but it's intentional and pulled off well. If you liked the Jurisfiction aspect of the second book, you're definitely going to like this one.
Review by phoebesmum
16/06/2015
A faint sense of let down here: the first book in the series was unique and amazing, the second spun it off in a whole other direction, but this felt very much like marking time and retreading old ground. Laboured in places; and killing off his best character? Probably not a good move.