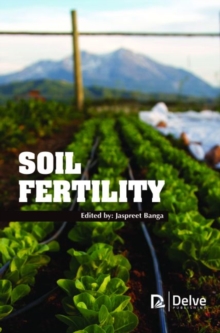 Description
Soil fertility and plant nutrition are two interdependent subjects, as the plant growth is influenced by the availability of nutrients in soil and in turn the soil quality is also defined by the plants growing in that particular biological system.
Fertile soils are defined by the presence of a balanced amount of organic and inorganic elements, as well as soil pH that are essential to maintain a homogenous environment for plants to flourish.
Due to wide diversity of plants in different climatic conditions on earth, the essential nutrients in soil also shows variation in the levels of elements, which maybe suitable for a particular region and toxic to plants growing in another region or climate, For example, countries of the Mediterranean basin produce annually vast quantities of olives that are a extracted for olive oil production.
The Mediterranean region is especially suitable for olive tree growth and olive fruit production, due to the well-drained soil, that are non-stratified, moderately fine textured soils, including sandy loam, loam, silt loam, clay loam, and silty clay loam.
Olive trees are especially sensitive to long harsh winters, making the Mediterranean mild winters with long and dry summers much more adaptable.
In this book we have discussed in the broader preview of soil fertility, the effects of plant growth on soil as well as counter effect of soil characteristics on plant growth, especially the soil nutrients, such as, nitrogen, phosphorous, potassium and pH of soil.
Information
Format: Hardback
Pages: 377 pages
Publisher: Arcler Education Inc
Publication Date: 01/11/2017
Category: Soil science, sedimentology
ISBN: 9781773611785