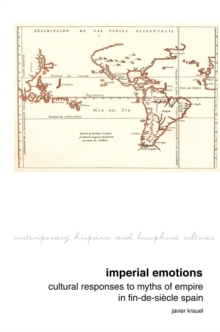 Imperial Emotions : Cultural Responses to Myths of Empire in Fin-de-siecle Spain
Hardback
Description
An Open Access edition of this book is available on the Liverpool University Press website and the OAPEN library. Imperial Emotions: Cultural Responses to Myths of Empire in Fin-de-Siecle Spain reconsiders debates about historical memory from the perspective of the theory of emotions.
Its main claim is that the demise of the Spanish empire in 1898 spurred a number of contradictory emotional responses, ranging from mourning and melancholia to indignation, pride, and shame.
It shows how intellectuals sought to reimagine a post-Empire Spain by drawing on myth and employing a predominantly emotional register, a contention that departs from current scholarly depictions of the fin-de-siecle crisis in Spain that largely leave the role of both emotions and imperial myths in that crisis unexplored.
By focusing on the neglected emotional dimension of memory practices, Imperial Emotions opens up new ways of interpreting some of the most canonical essays in twentieth-century Iberian literature: Miguel de Unamuno's En torno al casticismo, Angel Ganivet's Idearium espanol, Ramiro de Maeztu's Hacia otra Espana, and Enric Prat de la Riba's La nacionalitat catalana.
It also examines the profound implications the emotional attachment to imperial myths has had for the collective memory of the conquest and colonization of the Americas, a collective memory that today has acquired a transnational character due to the conflicting emotional investments in the Spanish empire that are performed throughout the Americas and Spain.
Information
Format: Hardback
Pages: 206 pages
Publisher: Liverpool University Press
Publication Date: 13/11/2013
Category: European history
ISBN: 9781846319761
Also in the Contemporary Hispanic and Lusophone Cultures series | View all