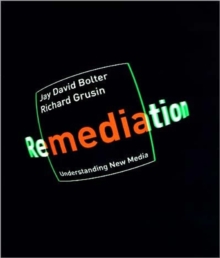 Remediation : Understanding New Media
Paperback
Description
Media critics remain captivated by the modernist myth of the new: they assume that digital technologies such as the World Wide Web, virtual reality, and computer graphics must divorce themselves from earlier media for a new set of aesthetic and cultural principles.
In this richly illustrated study, Jay David Bolter and Richard Grusin offer a theory of mediation for our digital age that challenges this assumption.
They argue that new visual media achieve their cultural significance precisely by paying homage to, rivaling, and refashioning such earlier media as perspective painting, photography, film, and television.
They call this process of refashioning "remediation," and they note that earlier media have also refashioned one another: photography remediated painting, film remediated stage production and photography, and television remediated film, vaudeville, and radio.
Information
Format: Paperback
Pages: 312 pages
Publisher: MIT Press Ltd
Publication Date: 06/01/2000
Category: Media studies
ISBN: 9780262522793
Free Home Delivery
on all orders
Pick up orders
from local bookshops
Reviews
Showing 1 - 2 of 2 reviews.
Review by amydross
16/06/2015
I started out really liking this book, mostly because it suggests a much-needed break from McLuhan and Ong. I appreciated the authors' rejection of technological determinism, and I was intrigued by their ideas of the complex interplay between immediacy and remediation. But then, around chapter three I realized they had put all their good stuff up front and really had nothing new to add. Also, while most of their points stand reasonably well, their examples are so woefully out of date... It's a little embarrassing to read them going on and on about how Virtal Reality is going to change the world, when in fact... no. Not at all.
Review by breadhat
16/06/2015
Written in the late 1990s, this book is little worse for wear. It lays out a highly useful and understandable framework for how media borrow from each other and situate themselves in relation to other media. It is not difficult to fill in the blanks regarding more recent developments, and the authors' theories are not less useful for being dated. On the negative side, the book is a bit overlong; I'd agree with the below reviewer that the connections to critical theory can be superficial or dubious, and the ending chapters are not as strong as the rest of the book. However, this book addresses in detail a field of inquiry that is only touched upon by most of other sources I have read. I highly recommend it to anyone taking a theoretical approach to new media.
Also by Jay David Bolter