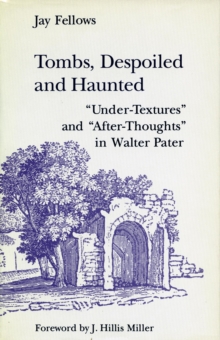 Tombs, Despoiled and Haunted : 'Under-Textures' and 'After-Thoughts' in Walter Pater
Hardback
Description
Walter Pater poses to criticism the challenge of how to approach a writer who is neither entirely a novelist, entirely a critic, nor entirely a historian, but each by turn.
This book demonstrates the unity of all Pater's roles through the crucial concept of 'linguistic consciousness'.
This idea enables the author, in a manner unique within contemporary criticism, to combine phenomenological and post-structural methodologies - that is to say, attention to details of language as registers of qualities of mind with a more recent linguistic and historical emphasis.
The result is an attempt to present a full autobiography of the linguistic consciousness of Walter Pater.
This requires that the author observe Pater from the inside, that he trace, even replicate, the motions of Pater's consciousness. the author shows how fragments of language, specific images and phrases, link up by means of figurative and rhetorical echoes into patterns that reveal a topographic, rather than a narrative or conceptual, structure as the 'under-texture' of Pater's writings. The metaphor of depth is fully appropriate - the author mines Pater's language for the little, concrete, nitty-gritty linguistic details that usually escape readers.
He also reveals a basic bifurcation in Paterian origins, showing how Paterian 'presence' - whether of the self, phenomena, or even texts - is always an 'after-thought', an echo that requires an original it cannot retrieve.
The style of the work is as noteworthy as its method.
The author provides splendid analyses of particular Paterian passages and works, but his ultimate goal is more ambitious.
Like the Geneva-school critics Georges Poulet and Albert Beguin, the author holds that to write about an author is to identify with the consciousness of that author - an act of appropriation that turns reading into a personal spiritual adventure, a quest, and that enables the critic creatively to extrapolate from his author's mode of consciousness.
The book creates a new optics for viewing Pater by creating a structure at once analogous to and obliquely, enlighteningly different from Pater's own works.
It occupies a liminal ground between sympathetic and creative criticism.<
Free Home Delivery
on all orders
Pick up orders
from local bookshops
Also by Jay Fellows