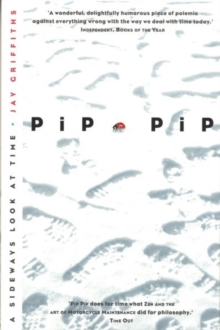 Pip Pip : A Sideways Look at Time
Paperback
Description
`A wonderful piece of polemic against everything that's wrong with the way we deal with time today.' IndependentWINNER OF THE BARNES AND NOBLE `DISCOVER AWARD FOR NON-FICTION' 2003An infectiously enthusiastic and original piece of cultural analysis on the one subject that has ousted sex and money from the top of the obsessions league.
In thrillingly ebullient style and with every paragraph fizzing over with smart ideas smartly expressed, livewire polemicist Jay Griffiths takes Time in her teeth and champs and chews at it until it's a far more palatable item - something to nourish us, not just to tempt and worry us.Her fascinating exploration of the passage of time includes (among many other things): our obsession with speed, with overtaking; motorways and their link to fascism; war; Mercury and the mythology of time and speed; History and the heritage industry; the `meanness' of Greenwich Mean Time; the fast language we now have to go with fast food; Aboriginal Dreamtime; the difference between festivals and pageants; May Day; New Year; fin de siecles; the Millennium Dome; the time-consuming nature of housework; sex as anti-authority and anti-linear time; male concepts of time set against female; plastic surgery and the denial of aging; the evolution of the global calendar and clock; clock time versus wild time.At once playful, political and passionate, she discusses Time's arrow/domain/passage/gender/ linearity/circularity/speed/sloth/etc with exceptional elan.
It all makes for a hugely entertaining, exciting and even terrifying book which marks the beginning of a significant writing career.
Information
Format: Paperback
Pages: 334 pages, (integrated decorative devices throughout)
Publisher: HarperCollins Publishers
Publication Date: 07/08/2000
Category: Philosophy
ISBN: 9780006551775
Free Home Delivery
on all orders
Pick up orders
from local bookshops
Reviews
Showing 1 - 2 of 2 reviews.
Review by mbmackay
16/06/2015
Although I have had many lucky wins from the remainders section of book shops, every now and then you come across a book that explains why there IS a remainder section. This book has a simple and interesting core thought - that we live our "time" too fast. But after that thought is described, in the first chapter (or was it the introduction?) there is sadly no development of the idea. What should do about it? How could we live our times differently - these and many other questions remain unanswered. In trying to get a one paragraph concept stretched to book-length, the author does test some boundaries. I thought that the lament at language loss (fewer languages in the world) was the best. How is this related to living time too fast? And what can we do about it? More unanswered questions. This is a clunker. (Read December 2010)
Review by questbird
16/06/2015
Mostly amusing diatribe against the modern artificial division of time by clocks and Christians. At its best describing different cultural views of time; at its worst as a general argument against 'progress'.