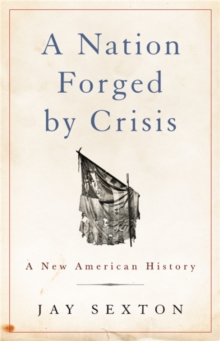 A Nation Forged by Crisis : A New American History
Hardback
Description
Americans have long understood their history as a story of inevitable progress, of a steadily rising standard of living and of the gradual extension of rights and freedoms to previously disenfranchised groups.
Thus recent developments-9/11, the 2008 financial crash, the election of Donald Trump-have arrived as great shocks, each seemingly a wrench in the gears of history.
How are we to understand our nation's past from the perspective of our volatile present?With A Nation Forged by Crisis, Jay Sexton has written a concise history of America for our time.
He contends that from the start our national narrative has been punctuated by underappreciated moments of disruption, and that the roots of these disruptions can be traced to shifts in the international system.
Sexton shows that the Revolution was not the inevitable result of American exceptionalism, but a consequence of Atlantic integration.
By the 1760s, immigration to the colonies had spiked, and among the new arrivals were people like Thomas Paine who brought radical ideas to the continent.
While Sexton does not dispute that the Civil War was caused by slavery, he argues that a necessary precondition for the conflict was the absence, for the first time in decades, of foreign threats.
Both North and South were emboldened-with horrific results.
In a similar way, it is impossible to understand the emergence of the New Deal without examining the role of "white ethnics"-first and second generation Germans, Poles, and Irish-in transforming and overseeing the mid-century Democratic Party.
Sexton closes by pointing out that if recent developments are any indication, the politics of the future appear set to look less like those of the twentieth century than those of the nineteenth century, which was dominated by questions of labor and race, markets and tariffs, immigration and citizenship, international rivalry and geopolitical instability. A razor-sharp and necessary revision of American history, A Nation Forged by Crisis forces us to reckon with the reality that the United States has been and will always be entwined with the world beyond its borders
Information
Format: Hardback
Pages: 256 pages
Publisher: INGRAM PUBLISHER SERVICES US
Publication Date: 08/03/2019
Category: Humamities
ISBN: 9781541617230