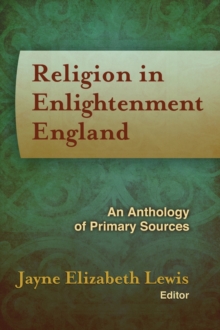 Religion in Enlightenment England : An Anthology of Primary Sources
Hardback
Description
Religion in Enlightenment England introduces its readers to a rich array of BritishChristian texts published between 1660 and 1750.
The anthology documents the arc of Christian writings from the reestablishment of the Church of England to the rise of the Methodist movement in the middle of the eighteenth century.
The Enlightenment era witnessed the explosion ofmass print culture and the unprecedented expansion of literacy across society.
These changes transformed many inherited Christian genresasuch as the sermon and the devotional manualawhile also generating new ones, from the modern church hymn to spiritual autobiography.
The authors included in this collection confronted the rise of modern science and forged new rules of modern toleration.Their writing reveals the unprecedented spiritual authority assumed by women and helps explain how emotion moved to the center of religious experience.
Religion in Enlightenment England captures the literary energy and excitement unleashed by the Enlightenment itself: authorsengageone another in spirited dialogue that pits reason against revelation, religious conformity against dissent, innovation against tradition, andFreethinking against natural religion.
An indispensable asset for any scholar's library, the anthology includes texts by William Law, John Bunyan, Elizabeth Singer Rowe, John and Charles Wesley, Richard Baxter, John Toland, Mary Astell, Daniel Defoe, John Norris, Margaret Fell Fox, Isaac Watts, Thomas Traherne, John Tillotson, William Penn, and Anne Conway.
Information
Format: Hardback
Pages: 420 pages
Publisher: Baylor University Press
Publication Date: 01/07/2017
Category: British & Irish history
ISBN: 9781602583009
Free Home Delivery
on all orders
Pick up orders
from local bookshops