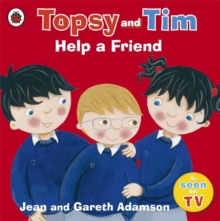 Topsy and Tim: Help a Friend
Paperback / softback
Description
Join Topsy and Tim as they help a friend in need. In Topsy and Tim Help a Friend, Stevie Dunton is unhappy at school because he is being bullied.
The twins do the right thing by speaking to Mummy and Miss Terry about it so they can stop the bullies picking on Stevie. Topsy and Tim are just like you! They find fun and adventure in the real world. A trusted and well-loved pair who can help guide parents and children through 'first experiences', Topsy and Tim books have been beautifully updated with contemporary artwork.
Topsy & Tim remain instantly recognizable to parents while in a fresh style that will appeal to a new generation of fans.
These wonderful books deserve a place on every child's bookshelves. Other titles are Topsy and Tim The New Baby, Topsy and Tim Have a Birthday party, Topsy and Tim Go on an Aeroplane, Topsy and Tim Play football, Topsy and Tim Go on a Train, Topsy and Tim Learn to Swim, Topsy and Tim Start School, Topsy and Tim Go Camping, Topsy and Tim Go to Hospital, Topsy and Tim Go to the Zoo, Topsy and Tim Go to the Dentist, Topsy and Tim At the Farm, Topsy and Tim Go to the Doctor, Topsy and Tim Have Itchy Heads, Topsy and Tim Meet the Firefighters, Topsy and Tim Meet the Police, Topsy and Tim Safety First, Topsy and Tim Go for Gold, Topsy and Tim Visit London, Topsy and Tim Meet Father Christmas, Topsy and Tim Move House
Information
Format:Paperback / softback
Pages:32 pages
Publisher:Penguin Random House Children's UK
Publication Date:01/01/2015
Category:
ISBN:9780723292593