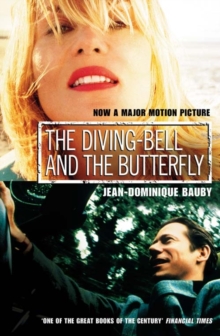 The Diving-Bell and the Butterfly
Paperback
Description
`Locked-in syndrome: paralysed from head to toe, the patient, his mind intact, is imprisoned inside his own body, unable to speak or move.
In my case, blinking my left eyelid is my only means of communication.'In December 1995, Jean-Dominique Bauby, editor-in-chief of French `Elle' and the father of two young children, suffered a massive stroke and found himself paralysed and speechless, but entirely conscious, trapped by what doctors call `locked-in syndrome'.
Using his only functioning muscle - his left eyelid - he began dictating this remarkable story, painstakingly spelling it out letter by letter.His book offers a haunting, harrowing look inside the cruel prison of locked-in syndrome, but it is also a triumph of the human spirit.
The acclaimed 2007 film adaptation, directed by Julian Schnabel, won Best Director at Cannes and was nominated for the Palme d'Or.
Information
Format: Paperback
Pages: 144 pages
Publisher: HarperCollins Publishers
Publication Date: 07/05/2002
Category: Autobiography: general
ISBN: 9780007139842
Other Formats
eAudiobook MP3 from £6.89
Free Home Delivery
on all orders
Pick up orders
from local bookshops
Reviews
Showing 1 - 4 of 4 reviews.
Review by gilporat
16/06/2015
How can one not admire the situation, let alone the story?
Review by thimbleberry
16/06/2015
kind of depressing, but a good reminder for when ever your feeling ungrateful
Review by ccookie
16/06/2015
First line:~ Through the frayed curtain at my window, a wan glow announces the break of day ~Short; powerful.Written painstakingly as Bauby communicated by blinking one eye as his friend and interlocutor listed off letters of the alphabet. What a commitment on both their parts.This book reminds me of a young woman I met at the therapy pool that I used to go to here in Toronto, Ontario, Canada. Carly Fleischmann was diagnosed as a toddler with severe autism, oral-motor apraxia and cognitive delay. She could not speak, had all kinds of odd behaviours and her parents were told that she would never develop beyond the level of a very young child. Then all of a sudden at age 10, Carly began to type full words and within 3 years time she was an advocate for other autistic children, teaching physicians and showing us that even though she was not able to speak, she had an awful lot to say. She is now 19. When she was 17 she and her father wrote a book together called 'Carly's Voice'. Until she was 10 years old Carly was 'locked in' just like Bauby. They have each taught us that there is often much more going on inside that we are aware of. The brain is a remarkable thing.What I found from reading Bauby's book is that life for him could be beautiful in spite of almost total paralysis and we get a real sense of the isolation that he felt and the frustration he experienced at being unable to do 'anything' for himself. The glimpse we get into his inner world is remarkable. 3.5 stars
Review by PilgrimJess
16/06/2015
I have just finished reading it twice firstly because it is only 130 pages long and secondly it had quite an affect on me.For those who does not know the history behind this book, Baubey was editor of French Elle when at 43 suffered a massive stroke which left him a victim of 'locked in syndrome' only able to communicate with the outside world by blinking one eye.This book left me both up-lifted and disturbed by the same measure. At the time he was a few years younger than I am at present but was no longer able to enjoy simple pleasures like eat, drink or take a bath which we all do without much thought yet while there is naturally a certain amount anger and remorse the general tone of the book is not self-pitying and there is even a little light humour as he remembers past experiences. I was left wondering how I would cope in a similar position and whether or not it made me more or less in favour of euthanasia (forgive me if mis-spelt but not word tend to use too often). Would the will to survive be an over-riding consideration or would I look for escape?If you are looking for some great literary masterpiece then this is not for you, mainly because you would be missing the point totally, but if you are looking for something very different and in it's own way challenging to read then I would heartily recommend this book.
Also by Jean-Dominique Bauby