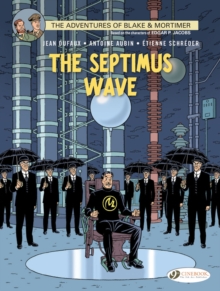 Blake & Mortimer : The Septimus Wave
Paperback
Description
It's been several months since the events of The Yellow M, but the evil of Professor Septimus still echoes around London.
Important figures of the capital's jet set come together around the questionable values the mad scientist defended.
Olrik is forced to resort to opium in order to forget he was guinea pig.
As for Mortimer, he too is trying, albeit for more humanist reasons, to revive certain aspects of Septimus's work-to Blake's extreme concern...
Free Home Delivery
on all orders
Pick up orders
from local bookshops
Reviews
Showing 1 - 1 of 1 reviews.
Review by iansales
27/08/2015
This is the twentieth book in the also long-running Blake and Mortimer series. Although linked with Hergé's Tintin – the first Blake and Mortimer story appeared in the Tintin Magazine, and the comic uses a similar ligne claire style – series creator Edgar P Jacobs chose not to prevent its continuation after his death. He died in 1987, and only actually wrote and drew half a dozen of the Blake and Mortimer books. The series was restarted in the 1990s and has been going strong ever since. The Septimus Wave is a sequel to an earlier Jacobs title, The Yellow "M", in which evil scientist Septimus brainwashes series villain Colonel Olrik into committing a series of crimes. But Septimus is now dead, and Mortimer is experimenting with Septimus's equipment – except he's not the only one. And there's something else riding piggyback on Septimus's "Mega Wave" generated by Mortimer and the others. Apparently, some of the post-Jacobs entries in the series have upset fans by being a bit too clever or something, and while The Septimus Wave is by no means the best of the new Blake and Mortimers I do like the fact they're a bit more sophisticated than Jacobs' own stories.
Also in the Blake & Mortimer series