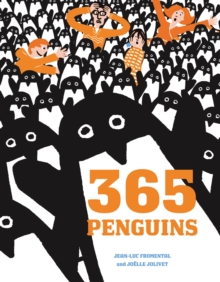 Description
From the amazing success of the documentary March of the Penguins to the popular penguins in Madagascar to the penguin-themed movie "Happy Feet", penguins are everywhere!
That's especially true for the family in "365 Penguins", who find a penguin mysteriously delivered to their door for every day of the year.
At first they're cute, but with every passing day, the penguins pile up - along with the family's problems.
Feeding, cleaning and housing the penguins becomes a monumental task.
They're noisy, smelly and they always hog the bathroom! And who on earth is sending these squawking birds? In a large format and with lots of opportunities for counting, "365 Penguins" is sure to become a perennial wintertime favourite.
Information
Format: Hardback
Pages: 48 pages, cl150 / bw / tt150 illustrations, cl / bw / tt photographs
Publisher: Abrams
Publication Date: 01/10/2006
Category: General
ISBN: 9780810944602
Free Home Delivery
on all orders
Pick up orders
from local bookshops
Reviews
Showing 1 - 5 of 12 reviews.
Previous | Next
Review by ezwicky
16/06/2015
Great illustrations in simple blocks of color. A penguin is delivered every day, and the family wonders who is sending them and does math to figure out what to do with them. The illustrations and the story are gripping, all is explained in the end, and then there is an ominous twist...
Review by pica7pica
16/06/2015
I give this book 5 starts mainly for the illustrations, done by Joelle Jolivet. The story is amusing too, with lessons in math, the difficulties of penguin storage and feeding, etc. However, without the illustrations, I'm not sure that I would love this book this much.
Review by rjmcwhorter1
16/06/2015
Not only is this book cute and well illustrated, but it contains multiple math lessons. I think it would be excellent to read and interact with students using it, encouraging them to do the math equations amongst each other.
Review by raizel
16/06/2015
Cute, oversized book with math concepts (factoring, cubing, calculating costs, adding) that control the chaos only until the next box with a penguin arrives. Blue, orange and black (and hence brown) make colorful, 50s-modern art. When Chilly arrives, start looking for blue feet among the penguins. Children enjoy this book.
Review by CamilaDeVeau
16/06/2015
Summary: On New Year's Day, a penguin is dropped off at a family's front door with no other instructions other than to feed him. There is no return address and nothing that shows where he came from. A penguin arrives in a package at their front door every day for 365 days. As the family travels through the year, they work through math problems to figure out how much food is necessary, where to put the penguins, and how to keep them together. Throughout the story, the family gets more and more frustrated with the large amount of penguins and the lack of understanding who is sending them the penguins and why. Will they figure out what to do with all the penguins? And who is sending them?Teaching Implications: 365 Penguins has a lot of different things to offer to teachers and classrooms. First of all, the book is a larger book that would be easier to read to a classroom. There are only four colors in the book: orange, blue, black, and white. One teaching implication could be to talk about the author's purpose in only using those four colors and why those colors specifically. The story has quite a few math problems and could be read to the class to teach addition, multiplication, and division. It could also be used in a class discussion or creative writing project on what they would do if this happened to them, if they were sent 365 penguins. How would this disrupt their world? The class could also discuss what they would like to have 365 of, if they could wish for the same thing to be sent to them every day for a year, what would it be?