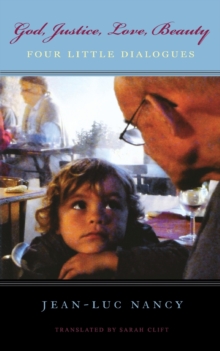 God, Justice, Love, Beauty : Four Little Dialogues
Paperback / softback
Description
The four talks collected here transcribe lectures delivered to an audience of children between the ages of ten and fourteen, under the auspices of the "little dialogues" series at the Montreuil's center for the dramatic arts.
Modeled on Walter Benjamin's "Aufklarung fur Kinder" radio talks, this series aims to awaken its young audience to pressing philosophical concerns. Each talk in God, Justice, Love, Beauty explores what is at stake in these topics as essential moments in human experience. (Indeed, the book argues that they are constitutive of human experience.) Following each, Nancy's audience is given a chance to engage with him in a process of philosophical questioning; the texts of these touching and probing exchanges are included in the volume. Despite the fact that these lectures were delivered to an audience of children, the intellectual level they achieve-while remaining easily comprehensible-is astounding.
No attempt is made to simplify Nancy's positions or to resolve the complexities that arise in the course of the talks or the question periods that follow.
The work of opening performed here is fully in keeping with the strategy of Nancy's philosophy as a whole.
Thus, for readers unfamiliar with his work, God, Justice, Love, Beauty will function as an excellent introduction to Nancy's larger corpus. As varied as the individual talks are, they share the motif of incalculability or the immeasurable.
Broadly speaking, one could say that the various ways in which Nancy approaches this motif exemplify his deconstructive approach to think of human existence.
As well, those treatments exemplify his conviction that the task of thinking is to develop original ways of communicating the incalculable. God, Justice, Love, Beauty is thus a skillful reminder that philosophy is important to all of us.
The book is also a model of intellectual generosity and openness.
Seamlessly moving from Schwarzenegger to Plato, from Kant, Roland Barthes, and Caravaggio to Caillou, Harry Potter, and the pages of Gala magazine, Nancy's wide-ranging references bear witness to his commitment to think of "culture" in its broadest sense.
Information
Format: Paperback / softback
Pages: 150 pages
Publisher: Fordham University Press
Publication Date: 15/06/2011
Category: Popular philosophy
ISBN: 9780823234264
Free Home Delivery
on all orders
Pick up orders
from local bookshops