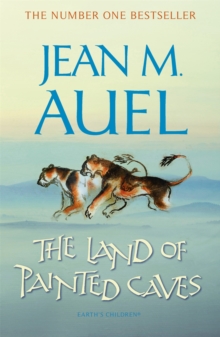 The Land of Painted Caves
Paperback
Description
THE LAND OF PAINTED CAVES concludes the story of Ayla, her mate Jondalar, and their little daughter, Jonayla, taking readers on a journey of discovery and adventure as Ayla struggles to find a balance between her duties as a new mother and her training to become a Zelandoni - one of the Ninth Cave community's spiritual leaders and healers.Once again, Jean Auel combines her brilliant narrative skills and appealing characters with a remarkable re-creation of the way life was lived thousands of years ago, rendering the terrain, dwelling places, longings, beliefs, creativity and daily lives of Ice Age Europeans as real to the reader as today's news.
Information
Format: Paperback
Pages: 800 pages
Publisher: Hodder & Stoughton General Division
Publication Date: 22/11/2011
ISBN: 9780340824276
Other Formats
EPUB from £7.49
CD-Audio from £19.85
Free Home Delivery
on all orders
Pick up orders
from local bookshops
Reviews
Showing 1 - 1 of 1 reviews.
Review by jayne_charles
27/08/2015
It felt as though this series had run its course by the time I got to book 5, and I picked up this final instalment with some trepidation. Would it be possible to breathe new life into this stuttering project? It wasn't long before that question was answered in the negative. Okay, in a book called "The Land of Painted Caves" it would be reasonable to expect a cave or two to feature. But crikey, the first four hundred pages were little more than a tour of caves, each one more tedious than the next. Around about page 300 Ayla remarks that she has rather had enough of looking at caves for now, and I have to admire her staying power – I had reached that conclusion at least 100 pages earlier.What has happened to this series which began so strongly? (Clan of the Cave Bear is one of my fave books of all time). Now the characters are flat, wooden and predictable, and drama has been replaced with the mundane. Elaborate and yawnworthy plans are made for two groups to go on an expedition and meet up partway. Except one group doesn't turn up on time. Jondalar can't get a signal on his Blackberry, or something like that, and they have to go back and look for them. What a drag. And you just know from the way things have been going for the last couple of thousand pages, if someone perishes in an earthquake or some random hunting disaster it won't be anyone you've previously heard of, so it won't register much anyway.My genuine advice to anyone hesitating about reading this book is to start at page 522. Unless you're keen to hear about Ice Age attitudes to capital punishment you will have missed nothing. And contrary to all expectation, in the very last quarter of the book something actually happens. In the context of such undiluted tedium it was like being hit by a swinging brick. I had genuine concerns over a certain person acting out of character (and given there is only one facet to his character, to act out of it is pretty bad) but let's park that, because when you're dying of thirst and someone offers you a beer you just drink it. What a relief to finally have a reason to read on. Until, of course, the author decided that what the plot needed was another cave. There is far too much repetition, not just of the flipping Mother's Song (which if I never read again it will be too soon), but of plotlines from previous books, as though it is hoped people will read this as a stand alone novel. Anyone doing so is going to be massively disappointed. The best place to start is with the first book – maybe followed by the next three – but then stop.