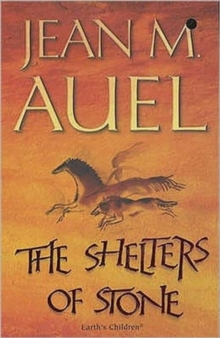 The Shelters of Stone
Paperback
Description
Ayla and Jondalar have reached home: the Ninth Cave of the Zelandonii, the old stone age settlement in the region known today as south-west France. Ayla has much to learn from the Zelandonii as well as much to teach them. Jondalar's family are initially wary of the beautiful young woman he has brought back, with her strange accent and her tame wolf and horses. She is delighted when she meets Zelandoni, the spiritual leader of her people, a fellow healer with whom she can share her medicinal skills. After the rigours and dangers that have characterised her extraordinary life, Ayla yearns for peace and tranquillity; to be Jondalar's mate and to have children. But her unique spiritual gifts cannot be ignored, and even as she gives birth to their eagerly-awaited child, she is coming to accept that she has a greater role to play in the destiny of the Zelandonii.
Information
Format: Paperback
Pages: 800 pages, 1 maps
Publisher: Hodder & Stoughton General Division
Publication Date: 01/05/2003
Category: Fantasy
ISBN: 9780340821961
Other Formats
Paperback from £8.85
EPUB from £6.99
Free Home Delivery
on all orders
Pick up orders
from local bookshops
Reviews
Showing 1 - 2 of 2 reviews.
Review by john257hopper
16/06/2015
This has all the strengths and weaknesses of the earlier post-Clan of the Cave Bear novels in the series. There is a beauty and purity about the story that is moving and touches something deep within me; and the author's research is impresssive and has re-boosted my youthful interest in human pre-history (this is really historical fiction, though it is wrongly categorised as fantasy in many UK bookshops). There are some interesting philosophical discussions, such as the one between Ayla and Zelandoni about the nature of life, procreation and the role of the sexes, and the many conversations and arguments about the relations between the Cro-Magnon peoples (though the term is not used here, of course) and the Clan. But on the downside, there is just too much repetition, the author both telling the reader background details and then showing them through dialogue again later, e.g. the role of the fa'lodges. A good bit of this could have been edited out; the book weighs in at 780 pages in a small typeface. Also the romance between the ridiculously perfect main characters borders on the Mills and Boon at times, and they have perfect earth-moving sex every time, "She was so ready. He was so ready. They were both so ready" - We should be so lucky all the time! ;).Despite these flaws, this is a brilliant series of novels, one that I will undoubtedly return to throughout my life. But I can understand the point of view of those who gave up after the first book or two thinking it was all too much just about "beautiful heroine saves life of handsome hero and they travel together across the known world meeting people who tell them how wonderful they are". Those who think that should persevere, but I can see why they probably won't.
Review by CookieDemon
16/06/2015
I'm a fairly recent reader to this series and as the title of my review suggests, I'm so glad that I haven't had to wait years to play catch up with these like some other readers have, because this book would have left me feeling thoroughly cold after waiting such a length of time. In my opinion it is nowhere near as good as the first few books in the series which is a real let-down.I'm also not going to summarise the plot- because other reviewers have already done so and believe me, after reading this book I am already so sick of the constant repetition of aspects Jean M Auel's world that I could scream. What I enjoyed most about her earlier books in the series was her descriptions and originality- but these DO NOT need to be churned out over and over by the time the later books come along. Readers are pretty familiar with her world by now after reading four of her other books and it really grated on me the (by now) turgid explanations of hunting, flora, fauna and the overly long ways that Ayla greets and is greeted by strangers. To be honest, instead of tying in with the plot, they felt as if they were there merely to fill up pages and this book is already far too long so they just weren't needed.Also, Ayla has now changed immeasurably from a strong willed character with flaws into a woman who is just so seemingly perfect she is immediately loved by everyone who encounters her. She is a sad parody of the fantastic protagonist she was in the earlier books and I found her hard to believe in any more and disappointingly, not really caring about her either. Oh, and a round of applause for the author for making every other woman that Jondalar had ever been attracted to in the past a complete troll now that Ayla was by his side. Brilliant plot device, really. Thoroughly believable.I also didn't care about Ayla and Jondalar's constant `pleasures.' Yes, ok, they have a lot of sex. We get it. Writing about it in such clunky, mind-numbing detail is just a waste of ink- as are a lot of the pages here, if I'm honest. Another factor that really cheesed me off were the other (one dimensional) characters shocked reactions whenever they saw Ayla with the horses or Wolf. Jeez, could Auel have repeated any situation more? I understand that it was unusual to see a human with a fairly tame animal, but having Ayla introduce the animals to *every* second character just seemed like another insipid way of increasing the word count.There are just so many more criticisms I have of this book but it would make this review far too wordy to list all of them (like the novel itself). My overall impression of this book? A waste of paper and ink that read like a particularly dry academic text; nothing of any worth really seemed to happen whatsoever.I have to say that whilst I *will* read the next book (someday) because it seems a shame not to given I have got this far, I am in no rush to do so and I will certainly not be buying a copy of my own- I fear it would be a real waste of money. *This review also appears on Amazon.co.uk*