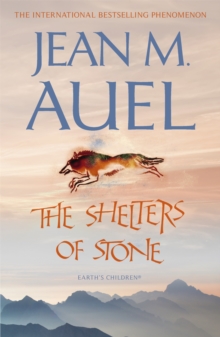 The Shelters of Stone
Paperback
Description
Ayla and Jondalar have reached home: the Ninth Cave of the Zelandonii, the old stone age settlement in the region known today as south-west France. Ayla has much to learn from the Zelandonii as well as much to teach them. Jondalar's family are initially wary of the beautiful young woman he has brought back, with her strange accent and her tame wolf and horses. She is delighted when she meets Zelandoni, the spiritual leader of her people, a fellow healer with whom she can share her medicinal skills. After the rigours and dangers that have characterised her extraordinary life, Ayla yearns for peace and tranquillity; to be Jondalar's mate and to have children. But her unique spiritual gifts cannot be ignored, and even as she gives birth to their eagerly-awaited child, she is coming to accept that she has a greater role to play in the destiny of the Zelandonii.
Information
Format: Paperback
Pages: 800 pages, 1 map
Publisher: Hodder & Stoughton General Division
Publication Date: 01/12/2010
Category: Fantasy
ISBN: 9781444713145
Other Formats
Paperback from £7.85
EPUB from £6.99
Free Home Delivery
on all orders
Pick up orders
from local bookshops
Reviews
Showing 1 - 2 of 2 reviews.
Review by Kassilem
16/06/2015
I'd been warned that this series went downhill and I can see why so many people say so. I saw an editorial review on Amazon that sums up the whole story so well I had to share it: In The Shelters of Stone, Ayla meets the Zelandonii tribe of Jondalar, the Cro-Magnon hunk she rescued from Baby, her pet lion. Ayla is pregnant. How will Jondalar's mom react? Or his bitchy jilted fiancée? Ayla wows her future in-laws by striking fire from flint and taming a wild wolf. But most regard her Neanderthal adoptive Clan as subhuman "flatheads." Clan larynxes can't quite manage language, and Ayla must convince the Zelandonii that Clan sign language isn't just arm-flapping. Zelandonii and Clan are skirmishing, and those who interbreed are deemed "abominations." What would Jondalar's tribe think if they knew Ayla had to abandon her half-breed son in Clan country? The plot is slow to unfold, because Auel's first goal is to pack the tale with period Pleistocene detail, provocative speculation, and bits of romance, sex, tribal politics, soap opera, and homicidal wooly rhino-hunting adventure. Totally, right? Thank you Tim Appelo! I didn't dislike the book per say but it's gotten to the point where I just want to know what happens but don't actually want to take the time to read it. There was no strife in this book, no real action to keep the book's pace up. The book dragged too much and most scenes had no emotions behind them. It all came across as flat and creates no link between the characters and readers. Ayla is too perfect. Jondalar has become flat. Not where I had hoped the story would go. I've come to the decision that I will not be reading the last book. I thought I'd try, but after this last book I decided I'm not interested enough to even try. The first two books were great. I highly recommend those. But I have to agree with everyone who warned me, that Auel just doesn't keep the greatness up. And I've been told the sixth book is the worst of all six. So, no thanks. I'm off for a new series.
Review by jayne_charles
27/08/2015
Coming back to this series after some years away, I was looking forward to catching up with some familiar characters, and continuing what had been quite a compelling story. Though I got through it quite quickly, and there wasn't any possibility of my leaving it unfinished, I was surprised by how wooden it was. I can't remember if the previous books were so repetitive and over-explained, but perhaps what made them stand apart from this one was the existence of a plot, or some kind of hook that would pull the reader through the duller parts. Here, the story takes place over relatively little time – perhaps only a few months, and moments of conflict – surely the lifeblood of fiction – are few and far between, mostly consisting of prehistoric superwoman Ayla spotting a problem and instantly waving her magic wand and solving it before moving on to something else. If there's a theme running through this book I'd say it was the portrayal of modern-day problems in a prehistoric setting. So we had bitchy women in the ice-age. Premarital sex in the ice age. Racism in the ice age. Disability in the ice-age. And perhaps most startling of all, alcoholic welfare scroungers in the ice age. I have a feeling the storytelling element of this series may be over, and all that remains now is to fill the reader in on the rest of the author's knowledge – undoubtedly based on meticulous research. Much space is taken up with lectures given by the cave's spiritual leader to other characters, which are really thinly veiled lectures by the author to the reader. And that's veiled by nothing thicker than a single-ply Tesco Value tissue. It's not that I object to being educated, but it all seemed a bit naked somehow.