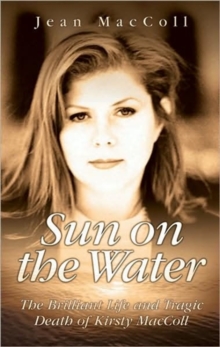 Sun on the Water : The Brilliant Life and Tragic Death of Kirsty MacColl
Hardback
Description
Kirsty MacColl led a dazzling life - tender, creative, heroic and full of love.
This book, by her mother Jean MacColl, charts with moving insight Kirsty's early years, celebrates her brilliant career at the front rank of the music business in the 1980s and '90s, and mourns her tragic and untimely death - killed by a speedboat in Mexican waters in December 2000.
It also tells, with heartfelt truth, the shocking story of the elaborate cover-up and gross miscarriage of justice that followed, and appeals for justice to be done in her name.
Daughter of legendary folk-singer Ewan MacColl and dancer mother Jean, Kirsty was a precocious child, troubled by ill health, whose talent quickly blossomed into a unique artistry.
She signed to the Stiff Records label and after her first tentative success moved to Polydor, which brought her her first major airplay with 'There's a Guy Works Down the Chip Shop Swears He's Elvis', demonstrating Kirsty's trademark dry wit and social awareness. Top-ten success - and widespread acclaim as a musical postergirl of the times - followed with such hits as 'A New England' and 'Days', but it was her 1987 collaboration with The Pogues on the Christmas hit 'Fairytale of New York' which really brought her brand of feisty folk-pop to an international audience.
By then married to producer Steve Lillywhite, her talents lent magic to an astonishing array of creative collaborations; this book includes new reflections on her life by many of her friends and colleagues, including Jools Holland and Billy Bragg.
In 2006 Bono dedicated U2's Mexico concert performances of 'I Still Haven't Found What I'm Looking For' to Kirsty's memory.But Kirsty's family, friends, and fans still haven't found what they're looking for: justice for those responsible for the needless hit-and-run accident that left her two young sons swimming in her blood.
Soon after Kirsty's death, Jean and her friend and colleague John Dalby started the Justice for Kirsty Campaign, which has now grown into a worldwide organisation, ably spearheaded by human rights activist Fred Shortland.
The campaign will continue until justice is done. Meanwhile, Kirsty's vivacious personality lives on in the enduring legacy of her brilliant music.
This remarkable book - in equal parts a celebration and an appeal for truth - tells the story of both.
Information
Format: Hardback
Pages: 365 pages, ill
Publisher: John Blake Publishing Ltd
Publication Date: 01/04/2008
Category: Rock & Pop music
ISBN: 9781844545490
Free Home Delivery
on all orders
Pick up orders
from local bookshops
Reviews
Showing 1 - 2 of 2 reviews.
Review by Chris_V
16/06/2015
Kirsty MacColl's tragic death in December 2000 robbed the music world of a great singer/songwriter but it also robbed Jean MacColl of her youngest child and in her heartfelt, loving book she tells us of her relationship with Kirsty and the anger that fuels her search for justice over Kirsty's manslaughter off the coast of Cozumel that sunny afternoon.In her book which had me smiling then moist-eyed then angry, Jean shares memories of her exceptionally bright and inquisitive little girl who captivated all who met her. They shared a unique relationship due to the fact that because Kirsty had chronic asthma as a child she was rarely well enough to go to school so mother and daughter were rarely parted.This is a biography where for once the subject's showbiz career is sketched in as Jean is more interested in Kirsty's life offstage with her friends & family and above all her devotion to her two sons. This is done so well that while reading of the aftermath of Kirsty's death I again felt the feeling I had when I heard the news.. that I had lost a friend.The failure of the Cozumel and wider Mexican judiciary to conduct a proper investigation into Kirsty's death is still a shocking indictment of the corruption inherent in the system - no doubt helped along by the fact that the man who owns and was on board the speedboat that killed Kirsty is Guillermo Gonzalez Nova, one of the richest men in Mexico.This is a book that ultimately one wishes should never have been written but for it's central core of love and pride I am glad Jean did.
Review by Booksloth
16/06/2015
This is the incredibly touching story, written by her mother, of the life and tragic death of singer/songwriter Kirsty McColl. How popular she ever was in other countries I don't really know so I hope American readers will bear with me a bit here. Even though you may not be aware of her individual work, most people will know Kirsty's amazing voice from that modern Xmas classic, Fairytale of New York (with the Pogues). To those of us who were fans of her music she was a wonderful lyricist with a unique turn of phrase and a quirky sense of humour. The words of her own songs say more about her than I could ever do so I'll leave anyone who hasn't heard of her to discover her through those lyrics.In December 2000, while at the height of her career and enjoying her passion for all things Cuban and Mexican, Kirsty was struck and killed by a speedboat while swimming in Mexico. This immensely moving book tells not only of her life, but of her mother's struggle to get justice for her daughter. The (wealthy and influential) pilot of the boat that killed her has never yet been made responsible for his actions.I'm not sure that any fan or general author could ever have written this book. It is filled with intimate knowledge of Kirsty and drips with a bereaved mother's love. Though Jean McColl comes across as an incredibly strong woman, her understated grief for her daughter is sometimes almost too painful to readThere are some scenes in some books (all the more poignant when they are true) that stay with you forever. The image of Kirsty's two sons swimming helplessly in their mother's blood is never likely to leave me.
Also by Jean MacColl