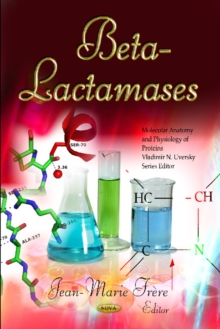 Description
The activity of a bacterial enzyme "able to degrade penicillin" had first been described in 1940, even before the exact structure of penicillin was elucidated and, by 1970, several enzymes had been purified to homogeneity, the amino acid sequence of a staphylococcal penicillinase was also known and that of its Bacillus licheniformis counterpart was well under way.
By contrast, their catalytic mechanism remained quite mysterious.
A Zn++ metallo-beta-lactamase (ss-lactamase II, BcII or ssII) had also been described as soon as 1967 and later purified.
It was thus surprising that the first mechanistic information demonstrating the presence of a penicillin-binding serine residue was obtained with a penicillin-sensitive DD-peptidase rather than a ss-lactamase.
This seemed to open the floodgates and several class A ss-lactamases were then rapidly shown to be active-site serine enzymes.
This book presents current research in the study of beta-lactamases.
Information
Format: Hardback
Pages: 537 pages
Publisher: Nova Science Publishers Inc
Publication Date: 30/04/2012
Category: Enzymology
ISBN: 9781613246382
Free Home Delivery
on all orders
Pick up orders
from local bookshops